Organic Excellence Squeaky Clean Pet Shampoo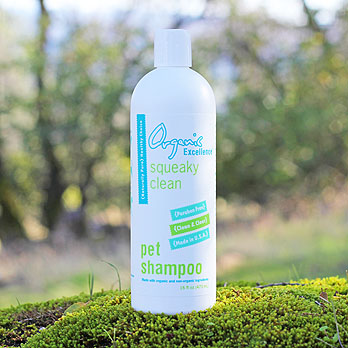 Item:

Organic Excellence Squeaky Clean Pet Shampoo (16 oz)

Info:

16 fl oz (473 mL) bottle

Price:

$17.00

$16.00

(Save 6%)

Save:

2 or more:

$15.00/ea (Save 12%)
Organic Excellence Squeaky Clean Pet Shampoo - is an exceptionally safe, gentle, and effective cleanser for your special little fur baby. Made with only the very best all-natural ingredients and botanicals, it's been formulated to gently clean dirt & oils away while soothing your pet's sensitive skin. When only the best will do for your furry loved ones...
Ingredients: Purified Water, Organic Aloe Vera Gel, Sodium Isostearoyl Lactylate (natural vegetable moisturizer), Vegetable Glycerin, Hydrolized Silk Protein Amino Acids, Lauryl Glucoside (natural foaming booster), Potassium Olive Oil Soap, Vitamin E Acetate, Organic Japanese Green Tea Extract, Organic Watercress Leaf Extract, Organic Hibiscus Leaf Extract, Organic Jojoba Oil, Urea Skin Moisturizer, Organic Witch Hazel, Organic Extra Virgin Olive Oil, Guar Gum, dl Panthenol (Vitamin B5), Citric Acid, Allantoin, Organic Grape Seed Extract.
Overview:
Organic Excellence Squeaky Clean Pet Shampoo is an ultra mild pet shampoo containing natural ingredients that you can pronounce and trust. This non-irritating soothing formula for dogs, cats and horses is perfectly pH-balanced for your pets delicate skin. Provides a gentle, effective, and safe clean. Formulated with nourishing botanicals and naturally moisturizing oils to benefit dry, itchy skin. It will leave your pet's coat soft, plush, and squeaky clean.
NO petrochemicals
NO parabens
NO sodium lauryl/laureth sulfate (SLS)
NO phthalates
NO propylene glycol
NO synthetic fragrances
NO diethanolamine (DEA)
NO triethanolamine (TEA)
NO polyethylene glycol (PEG)
What Organic Excellence Squeaky Clean Pet Shampoo DOES contain, is truly natural and beneficial ingredients that gently cleanse your pet :-)
Directions for Use: Wet pet thoroughly with warm water. Apply Squeaky Clean from head to tail, avoiding eyes. Gently massage deep into coat and skin. For best results leave on 2-3 minutes. Rinse thoroughly with fresh water. Towel dry, hug, and play.