100% Pure - Healthy Scalp Shampoo & Conditioner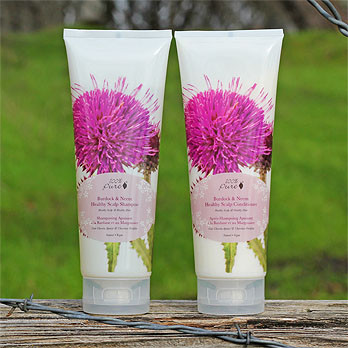 Item:

100% Pure - Healthy Scalp Shampoo/Conditioner Combo (8 oz)

Info:

8 oz. shampoo + 8 oz. conditioner

Price:

$48.00

Save:
Use coupon code 100PURE at checkout
100% Pure's all-natural Healthy Scalp shampoo and conditioner work exceptionally well together to help heal your scalp. Both formulas are truly chemical free, and contain top notch therapeutic ingredients like aloe vera, neem, burdock root, oregano, thyme, and tea tree. For relief of dry, itchy, scaly, flaky scalp.
Shampoo Ingredients: Organic Aloe Leaf Juice, Rose Flower Water, Saponified Coconut Oil, Vegetarian Glycerin, Neem, Burdock Root, Kelp Extract, Plant Cellulose, Vitamin E, Panthenol, Green Tea Leaf, Nettle, Rosemary Leaf, Calendula Flower, Virgin Coconut Oil, Peppermint Leaf Extract, French Sea Salt, Oregano Leaf, Thyme Flower/Leaf, Honeysuckle Flower, Eucalyptus Leaf Essential Oil, Tea Tree Leaf Essential Oil

Conditioner Ingredients: Organic Aloe Leaf Juice, Rose Flower Water, Avocado Butter, Flax Seed Oil, Vegetable Glycerin, Virgin Coconut Oil, Cetearyl Alcohol, Neem Seed Oil, Burdock Root Extract, Kelp Extract, Orange Peel Fiber, Candelilla Wax, Nettle, Peppermint Leaf, Calendula Flower, Vitamin E, Pro-Vitamin B5, Honeysuckle Flower, Oregano Leaf, Thyme Flower/Leaf, Rosemary Leaf, Lavender Flower/Leaf/Stem, Eucalyptus Leaf Essential Oil, Tea Tree Leaf Essential Oil
Overview:
100% Pure - Healthy Scalp Shampoo & Conditioner contain none of the harsh chemicals or toxins found in every other anti-dandruff shampoo or conditioner I've researched. And with natural therapeutic ingredients like aloe vera, neem, burdock root, oregano, thyme, and tea tree - it's my top pick for those with scalp issues like dandruff, seborrheic dermatitis, psoriasis, and itching.
Healthy Scalp Shampoo treats your scalp by purifying, unclogging pores, stimulating circulation, and helping to alleviate dryness, itching and flaking - while keeping your hair healthy, nourished and vibrant. Healthy Scalp Conditioner moisturizes, hydrates, softens and detangles for healthier hair, while soothing and treating your scalp to alleviate dryness, itching and flaking.
Gentle enough for color treated and all hair types, this all-natural formula does not contain synthetic chemicals, artificial fragrances, chemical preservatives, sulfates, detergents or any other harsh ingredients that can strip or dehydrate.
One of the most important things you can do to improve the health of your scalp and hair is to limit your exposure to harsh man-made chemicals. The skin is the body's largest organ and can easily absorb horrible toxins & chemicals from the environment and personal care products. 100% Pure products contain NONE of the following common hair care ingredients toxins...
NO petrochemicals
NO parabens
NO sodium lauryl/laureth sulfate (SLS)
NO phthalates
NO propylene glycol
NO synthetic fragrances
NO diethanolamine (DEA)
NO triethanolamine (TEA)
NO polyethylene glycol (PEG)
More importantly though, 100% Pure - Healthy Scalp Shampoo & Conditioner both contain some of the best all-natural therapeutic ingredients for fighting seborrheic dermatitis and severe dandruff...
Therapeutic Ingredients:
Neem Extract - used for centuries in traditional Indian medicine to aid in the healing of topical skin disorders such as eczema, psoriasis, rashes, burns and acne. It is a very effective antiseptic, antifungal, antibacterial, and dermatological agent.
Burdock Root Extract - traditional medicine used by Native Americans to treat chronic skin conditions such as eczema, psoriasis, and acne. Contains many beneficial phytochemicals and has antioxidant, anti-inflammatory, antimicrobial, and antibacterial properties. Also shown to reverse hyperproliferation of skin cells - which is very important for seborrheic dermatitis and psoriasis.
Rosemary Extract - normalizes excessive oil secretions and improves most scalp problems, particularly dandruff and seborrheic dermatitis. It also nourishes the scalp and stimulates hair growth by increasing circulation.
Peppermint Extract - relieves skin irritation and itchiness while also reducing redness and inflammation. Very soothing and cooling.
Oregano Extract - numerous research studies have been published that repeatedly show the ability of oregano oil to kill yeast and other fungi. Possesses very powerful antifungal properties.
Eucalyptus Oil - soothes inflammation and works wonders for most skin ailments. It is a powerful antibacterial, anti-inflammatory, antiseptic, and astringent.
Tea Tree Oil - acts as an immuno-stimulant and increases the body's ability to fight off infections. It has very powerful antimicrobial, antiseptic, and antifungal properties. This oil is one of the oldest and most used essential oils, and is quite popular in natural soaps, shampoos, and creams. A proven weapon against dandruff and Seborrheic Dermatitis.
FAQs:
Will this shampoo cure my dandruff/seborrheic dermatitis?
It's my belief that no topical product can permanently cure your dandruff or seborrheic dermatitis, but 100% Pure Healthy Scalp shampoo and conditioner should definitely help with the symptoms. Both products contain powerful therapeutic oils & herbal extracts that help relieve dryness, itching, and flaking.
Do you recommend the 100% Pure shampoo, or the Organic Excellence shampoo for my dandruff/seborrheic dermatitis?
Both are actually great for dandruff and/or seborrheic dermatitis! Organic Excellence is more of an everyday shampoo & conditioner that is mildly therapeutic for scalp conditions. It's super gentle, 100% chemical free, and a better value (~$1.00/ounce). Whereas 100% Pure - Healthy Scalp shampoo & conditioner is specifically formulated to treat scalp problems like dandruff and seborrheic dermatitis. It's stronger and more therapeutic (yet still all-natural) - thus it costs a bit more (~$2.50/ounce). With that said, I love both...and actually alternate between the two.
What does 100% Pure mean?
There are many toxic chemicals in cosmetic products that have been clinically proven to cause cancer, tumors, irritation and many different skin disorders. 100% Pure products are truly 100% pure. That means there are no synthetic chemicals, chemical preservatives, artificial fragrances, artificial colors, harsh detergents or any other unhealthy toxins. Truly health food for your skin.

Why vegan?
We love animals and refuse to support anything that hurts animals, which is why none of our formulas are ever tested on animals. Everything we use is food grade and does not require testing, whereas chemical ingredients must be tested.
Why no perfumes or fragrances?
Perfumes and fragrances are synthetic chemicals that do not have any medicinal or aroma therapeutic value. 100% Pure products smell delicious because what you smell is real. The wonderful aromas in 100% Pure products are from real fruits, pure essential oils, and pure absolutes. There are never any synthetic fragrances or anything artificial in 100% Pure products.
Why no thickeners or emulsifiers?
Thickeners and emulsifiers are considered to be cheap fillers. 100% Pure products are never diluted with water, alcohol, thickeners, emulsifiers or any other "fillers". Instead, 100% Pure products are totally concentrated and perform at optimal level.
Why are the antioxidants in 100% Pure products so important?
Every moment, we are slowly deteriorating. Free radicals such as the sun, smog, smoke, cigarettes, etc. attack us, causing aging, wrinkles, and cancer. Only Antioxidants protect us by fighting off the damaging free radicals. Sun block is important because it blocks up to 80% of UV rays, but sun block does not protect against other free radicals. Your skin needs antioxidants for sun protection and protection against all damaging free radicals.
Since there are no chemical preservatives, how long do your products last once I open them?
On each product, there is an open jar symbol with a number on it. That number indicates how long you can use the product once it is opened. Rather than using chemical preservatives, we use natural preservatives and anti-bacterial herbs. 100% Pure has several other unique proprietary technologies that distinguish the company from competitors. We use unique technology to stabilize active ingredients from oxidizing and also have a proprietary 100% natural preservative system, using Japanese Honeysuckle, Thyme, Oregano, Goldenseal, Rosemary, Lavender and a high concentration of vitamins and antioxidants, to preserve all products.
Is 100% Pure good for sensitive skin?
Because 100% Pure does not contain harsh detergents, chemical preservatives, artificial fragrances that can irritate the skin, they are perfect for sensitive skin.
Are your products safe for kids?
Since 100% Pure products do not contain any synthetic chemicals, parabens, sulfates or harsh detergents, artificial fragrances or colors, phthalates, 100% Pure is safe for kids to use.
Customer Feedback:
*The following testimonials were taken directly from unsolicited customer emails (which I really appreciate by the way). It's important to remember that results may vary from person to person though, and no topical product should be considered a permanent cure.
"I have to tell you that I have been using the Burdock and Neem Healthy Scalp Shampoo and Conditioner for about 2 months now. I have NEVER found a product as effective in controlling my itchy scalp issues (psoriasis)!!! You can't imagine how much $$ I've spent over the years on myriads of products. This is the first that has had remarkable results for me. I will never be without it! I have told my hair stylist and dermatologist about your product. Both were very interested. Thanks and good luck!"
-Hannah T.
"I love this shampoo and conditioner! It's an excellent product." *Disclaimer
-Julia T.
"Wonderful products! Did a lot of reasearch before I purchased anything! Wanted to let you know that after 3 weeks my severe seborrheic dermatitis is much much better. Will continue to use the 100% Pure burdock & neem healthy scalp shampoo and the healthy scalp conditioner daily. What a difference and so relieved to find something that helps my scalp. Thank you!" *Disclaimer
-Cyndy N.
"I ordered the 100% Pure to use with conditioner and have to say it is a marvelous product, very soothing on the scalp. I have used it five times, every other day and love it. Thanks for carrying these fine products. Keep up the good work. I have tried other online remedies, but my body tells me right away to avoid them." *Disclaimer
-Murray G.