mykind Organics - Whole Food Multivitamins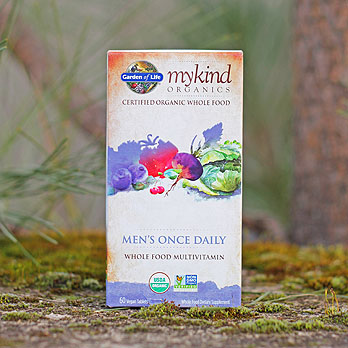 Item:

mykind Organics Men's Once Daily Multivitamin

Info:

60 day supply

Price:

$57.00

$42.75

(Save 25%)

Save:

2 or more:

$39.90/ea (Save 30%)
mykind Organics Men's Once Daily is a whole-food multivitamin made from real nutritious foods that's Certified USDA Organic, Non-GMO Project Verified, and is specifically formulated in a once-daily dose for the needs of men. Made exclusively from over 30 powdered organic fruits, vegetables and herbs, mykind Organics Men's Once Daily offers 19 vitamins and minerals including vitamin B-12 & natural selenium for prostate health. It's formulated to meet men's specific health, energy, and immune system needs. Made from real organic whole food, including lemons, apples, basil, red cabbage, celery, tomatoes, and many more - it provides perfect support for your demanding lifestyle...all in just one organic tablet daily.
Overview:
Developing a multivitamin formula that is Certified USDA Organic, Non-GMO Project Verified, made from nothing but real, whole foods is incredibly difficult - which is likely why it had never been done before. For Garden of Life, it took years of innovation and patience. Their extended family of organic farmers provides the fresh fruits, vegetables and herbs that make up the mykind Organics whole food formulas. Each tablet provides clean, organic, whole-food based, targeted nutrition.
In addition, mykind Organics is the first multivitamin to utilize Clean Tablet Technology, their patent-pending process that uses only organic, whole-food ingredients. mykind Organics is a unique brand of vitamins that stands apart from all other vitamins because it is made exclusively with organic whole foods. It is the only brand of vitamins currently available that is dual certified, meaning it is both Certified USDA Organic and Non-GMO Project Verified. It is also independently certified as both Vegan and Gluten Free.
Made from Certified Organic fruits, vegetables, and herbs
Promotes sustained energy & immune function
Supports a healthy heart & metabolism
Supports radiant skin & nails
Certified USDA Organic & Non-GMO Project Verified
Certified Vegan & NSF Certified Gluten Free
Free of synthetic fillers & binders
Organic Clean Tablet Technology - No magnesium stearate
Suggested Use: Adults take 1 tablet daily with food. Not intended for children.
Servings Per Container: 60
Ingredients:
Organic Vitamins & Minerals - Vitamin A, Vitamin C, Vitamin D, Vitamin E, Vitamin K (with K2 MK-7), Thiamin (B1), Riboflavin (B2), Niacin (B3), Vitamin B6, Folate, Vitamin B12 (Methylcobalamin), Biotin, Pantothenic Acid (B5), Calcium, Iron (Women's formula only), Magnesium, Zinc, Selenium, Manganese, Chromium
Certified Organic Food Blend - Sesbania grandiflora (leaf), Apple (fruit), Guava (fruit & leaf), Murraya koenigii (leaf), Amla Berry (fruit), Holy Basil (leaf), Annatto (fruit & seed), Moringa (leaf), Lemon (peel), Beet (root), Broccoli (flower & stalk), Carrot (root), Spinach (leaf), Tomato (fruit), Strawberry (fruit), Lantana camara (aerial), Wrightia tinctoria (aerial), Cherry (fruit), Blackberry (fruit), Green Bell Pepper (fruit), Brussels Sprout (leaf), Ginger (root), Blueberry (fruit), Garlic (bulb), Green Onion (bulb), Raspberry (fruit), Parsley (leaf), Cauliflower (flower & stem), Red Cabbage (leaf), Kale (leaf), Cucumber (gourd), Celery (stalk), Asparagus (flower & stem)
Other Ingredients - organic dextrose, organic gum arabic, organic brown rice, organic potato starch, organic coating (tapioca maltodextrin, sunflower lecithin, palm oil), organic guar gum.