Organic Excellence Hand & Body Therapy Lotion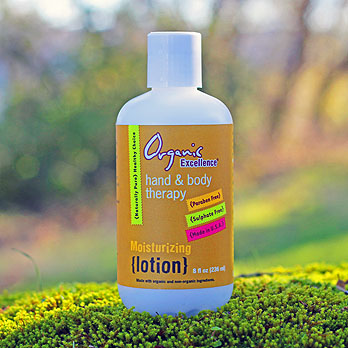 Item:

Organic Excellence Hand & Body Lotion (8 oz)

Info:

8 fl oz (236 mL) bottle

Price:

$17.00

$16.00

(Save 6%)

Save:

2 or more:

$15.00/ea (Save 12%)
Organic Excellence Hand & Body Therapy Lotion is quite simply the best lotion available anywhere! 100% all-natural, chemical-free, non-greasy, incredibly moisturizing, and totally fragrance free. Do yourself a favor...and give it a shot :-)
Ingredients: Water, Organic Aloe Vera Leaf Juice, Organic Sesame Seed Oil, Organic Evening Primrose Seed Oil, Vegetable Glycerin, Lecithin, Hyaluronic Acid, Organic Shea Butter, Vitamin C, Gotu Kola Extract, Chamomile Flower Extract, Sodium PCA, Vitamin B5, Vitamin E, Organic Grape Seed Extract.
Overview:
Organic Excellence Hand & Body Therapy Lotion penetrates deeply into your skin bringing superb results you'll notice right away. This rich moisturizing lotion hydrates even the driest skin, creating a smooth and health glow.
Protect the largest organ of your body from the elements while providing it with powerful therapeutic botanicals that recapture a youthful appearance. Exceptionally soothing, Hand & Body Therapy is formulated with the special anti-aging and protective ingredients Centella Asiatica, Evening Primrose Oil, Hyaluronic Acid, and Shea Butter.
Chemical free & 100% natural
Rich in antioxidants
Helps renew collagen
Assists in restoring tissue firmness & skin elasticity
Non-greasy, yet super hydrating
Helps prevent premature wrinkles
Supports the repair of sun damaged skin
Gentle enough for the whole family to use
Unscented, fragrance free
Ingredients:
Purified Water - provides moisture and the correct consistency.
Organic Aloe Vera Gel - increases the production of collagen and elastin, soothes the skin, adds moisture and prevents moisture loss. An affective anti-inflammatory with antibacterial properties, it is rich in vitamins, minerals, amino acids, enzymes and proteins.
Vegetable Glycerin - a humectant used to help retain moisture. Extracted from vegetable oils, we utilize its ability to act as a natural preservative.
Organic Evening Primrose Oil - has anti-aging properties and helps to decrease fine lines and wrinkles. Smoothes rough skin an can hydrate extremely dry skin.
Lecithin - is a building block in cell membranes and works to protect cells from oxidation. It softens your skin and is helpful for sun damage and skin irritations. An all-natural emulsifier with excellent medicinal properties.
Organic Sesame Oil - this potent antioxidant with properties similar to sunscreen softens, smoothes, and moisturizes your skin.
Organic Centella Asiatica Extract - this herb has excellent medicinal properties and also helps stimulate collagen production in the skin.
Hyaluronic Acid - naturally found in skin tissue, this compound protects cells and helps retain moisture. Improves skin hydration, suppleness, elasticity, and tone.
Dexapanthenol (Vitamin B5) - has natural broad abilities to moisturize, soothe, heal and regenerate the skin. Stabilizes the skin barrier function, reducing the amount of water lost through the skin.
Vitamin E Acetate - one of the most powerful antioxidants for maintaining beautiful skin. Vitamin E reduces the effects of pollutants and ultra-violet rays and heals, rejuvenates, softens, soothes, and protects your skin while acting as a natural preservative.
Organic Shea Butter - protects the skin from both environmental and free-radical damage. It contains vitamins A and E, and has demonstrated both antimicrobial and anti-inflammatory properties. It also acts as a penetrating moisturizer.
Vitamin A Palmitate - is a powerful antioxidant. Research shows that this vitamin has the ability to slow the aging process by improving the overall condition of your skin.
Sodium PCA - is a naturally occurring component of human skin and a part of the "natural moisturizing factors" that maintain a healthy epidermis. It's a powerful humectant that imparts a moist feeling to hair and skin.
Alpha Bisabolol (German Chamomile) - with excellent anti-inflammatory properties, it is the preferred active ingredient for protection against the recurring stresses of the environment on the skin.
Organic Grapeseed Extract - helps maintain elasticity and stabilize collage structures in your skin. This powerful antioxidant inhibits the production of free radicals and reduces inflammation. Also an excellent, all-natural preservative.