Organic Excellence Wild Mint Shampoo & Conditioner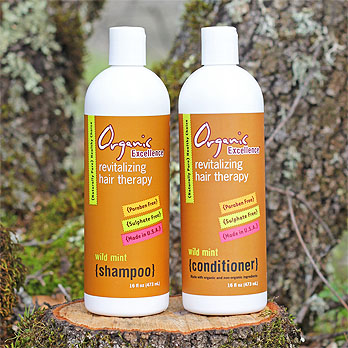 Item:

Organic Excellence Shampoo/Conditioner Combo

Info:
16 fl oz bottle of shampoo +
16 fl oz bottle of conditioner
Price:

$34.00

$30.00

(Save 12%)

Save:

3 or more:

$28.00/ea (Save 18%)
Save money when you purchase Organic Excellence's outstanding all-natural shampoo and conditioner together! Both formulas are truly chemical free, with absolutely no harsh man-made ingredients like sodium lauryl/laureth sulfate (SLS).
Shampoo Ingredients: Aqua/Water/Eau, Organic Aloe Barbadensis (Aloe Vera) Leaf Juice, Organic Cocos Nucifera (Coconut) Oil, Organic Olea Europaea (Olive) Oil, Potassium Lactate, Glycerin, Organic Humulus Lupulus (Hops) Extract, Organic Melissa Officinalis (Balm Mint) Extract, Organic Olea Europaea (Olive) Leaf Extract, Organic Mentha Piperita (Peppermint) Oil, Organic Cymbopogon Schoenanthus (Lemongrass) Oil, Organic Vitis Vinifera (Grape) Seed Extract, Allantoin, Citric Acid, Organic Zingiber Officinale (Ginger) Root Extract, Organic Foeniculum Vulgare (Fennel) Seed Extract, Organic Rosmarinus Officinalis (Rosemary) Extract, Salvia Officinalis (Sage) Extract, Niacin

Conditioner Ingredients: Aqua/Water/Eau, Organic Aloe Barbadensis (Aloe Vera) Gel, Organic Olea Europaea (Olive) Oil, Organic Zingiber Officinale (Ginger) Root Extract, Organic Rosmarinus Officinalis (Rosemary) Extract, Vegetable Glycerin, Allantoin, Organic Oleo Europaea (Olive) Leaf Extract, Chamomile Extract, Organic Mentha Viridis (Spearmint) Leaf Oil, Organic Vitus Vinifera (Grape) Seed Extract, Panthenol (Vitamin B5), Vitamin E (Tocopherol).
Overview:
Nearly all shampoos and conditioners contain toxic man-made chemicals like sodium lauryl sulfate, sodium laureth sulfate, propylene glycol, parabens, phthalates, and more. Organic Excellence has somehow managed to combine simple all-natural ingredients to create two outstanding hair care products...
Organic Excellence Wild Mint Shampoo is specially formulated with select ingredients to add moisture & body to your hair. Rich in certified organic herbs, it helps maintain a healthy pH balance, prevent hair loss and stimulate new growth. It's effective at relieving a dry, itchy scalp and brings great results to all hair types. Safe for colored hair too.
Organic Excellence Wild Mint Conditioner moisturizes without coating your hair, building up, or creating a heavy feeling. Special ingredients help prevent split ends while calming frizz & static electricity. Certified organic herbs help slow hair loss and stimulate new growth. For manageability, deep conditioning, luxurious body, and a beautiful shine - nothing compares to truly natural conditioner. Ideal for all hair types.
One of the most important things you can do to improve the health of your skin, scalp, and hair is to limit your exposure to harsh man-made chemicals. The skin is the body's largest organ and can easily absorb horrible toxins & chemicals from the environment and personal care products. Organic Excellence products contain NONE of the following common hair care ingredients toxins...
NO petrochemicals
NO parabens
NO sodium lauryl/laureth sulfate (SLS)
NO phthalates
NO propylene glycol
NO synthetic fragrances
NO diethanolamine (DEA)
NO triethanolamine (TEA)
NO polyethylene glycol (PEG)
What Organic Excellence products DO contain, are truly natural and beneficial ingredients that gently cleanse and condition your hair :-)
FAQs:
Will this shampoo cure my dandruff/seborrheic dermatitis?
It's my belief that no topical product can permanently cure your dandruff or seborrheic dermatitis, but Organic Excellence shampoo and conditioner should definitely help with the symptoms. Both products contain mildly therapeutic oils & herbal extracts that help keep your scalp and hair healthy.
Do you recommend the Organic Excellence shampoo, or the 100% Pure shampoo for my dandruff/seborrheic dermatitis?
Both are actually great for dandruff and/or seborrheic dermatitis! Organic Excellence is more of an everyday shampoo & conditioner that is mildly therapeutic for scalp conditions. It's super gentle, 100% chemical free, and a better value (~$1.00/ounce). Whereas 100% Pure - Healthy Scalp shampoo & conditioner is specifically formulated to treat scalp problems like dandruff and seborrheic dermatitis. It's stronger and more therapeutic (yet still all-natural) - thus it costs a bit more (~$2.50/ounce). With that said, I love both...and actually alternate between the two.
Is the shampoo/conditioner safe for color treated hair?
Yes, both products work great with color treated hair.
Is the shampoo/conditioner vegan friendly?
Yes, all ingredients are plant derived and there is no absolutely no animal testing.
Since the shampoo doesn't use sodium lauryl/laureth sulfate, does it lather?
Sodium lauryl/laureth are harsh, toxic sudsing agents. Organic Excellence's special combination of ingredients do create a slight, smooth lather, however not like what is produced by this commonly used chemical.
Does the conditioner cause that "heavy hair" feeling that so many others do?
No, and OE customers frequently comment on that fact. They love how the Wild Mint Conditioner moisturizes and adds body without building up.
Do Organic Excellence hair care products protect against UV rays?
Yes. Each of the OE hair care products contains ingredients to protect your hair from pollution and other environmental factors, and from the harsh effects of ultra-violet rays.
What is Potassium Lactate?
Potassium Lactate (the potassium salt of lactic acid) is created when lactic acid is neutralized with potassium. Lactic acid is a natural acid produced by bacterial fermentation of food (in this case starch and/or sugar).
Customer Feedback:
*The following testimonials were taken directly from unsolicited customer emails (which I really appreciate by the way). It's important to remember that results may vary from person to person though, and no topical product should be considered a permanent cure.
"I have suffered from Seborrheic Dermatitis for about 3 yrs now and have been to a dermatologist about two times during these 3 years. I felt after a few washes the prescribed shampoo was not working and was so harsh on my African American textured hair. The flakes would appear 2-3days after I had shampooed and conditioned my hair. I was devastated and did not know what to do. I began using organic products only and it would help for the moment but still I would have flare ups frequently. I just recently began researching again about this scalp issue because I was once again was fed up. I came across your site and read through your personal experience your wife had and instantly knew I wanted to give the product a shot. I purchased the Organic Excellence shampoo and conditioner. I must say this is week two of using the product and I have not seen any flakes and have not experienced any flare ups from the dermatitis. I am relieved and amazed at the results. I have also been using tea tree oil to moisturize my scalp as I have always did in the past and it is working well with you product. I will be looking to purchase more products and I hope your site continue to grow I just wanted to send you an email saying thank you thank you thank you!!!"
-Darrlyn B.
"I did want to tell you how pleased I am with the shampoo and conditioner. And, it is the only one I've ever used that doesn't strip my hair of color - red, which is the hardest to maintain." *Disclaimer
-Alice R.
"On your recommendation, I tried organic excellence shampoo for my severe dandruff. Previously my dandruff was so bad that I had to use a prescription medicated shampoo. However, Organic Excellence works so well (without fading my hair color) that I now use nothing else. Last time I went to see my dermatologist, he said "I see you are still using the medicated shampoo" (because my scalp was clear and healthy) and I was thrilled to tell him "No. I switched to Organic Excellence months ago and I am not going back." He was shocked to hear that I was using a nonprescription product that was working so well. He asked me the name of the product again and wrote it down." *Disclaimer
-SueEllen L.