Organic Excellence Skin Renewal Therapy Face Cream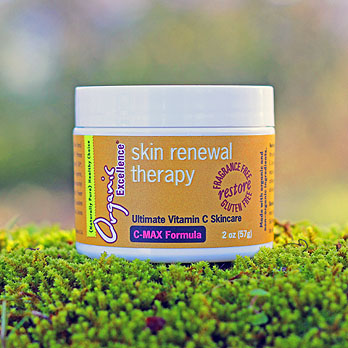 Item:

Organic Excellence Skin Renewal Therapy Face Cream

Info:

2 oz. (57 g) jar

Price:

$30.00

$27.00

(Save 10%)

Save:

2 or more:

$25.00/ea (Save 17%)
Organic Excellence Skin Renewal Therapy Face Cream is a must if you want to protect your sensitive skin against the ravages of sun & free radical damage. Its special C-Max (Vitamin C) Formula uses carefully selected all-natural oils, herbal extracts, and antioxidants to defend and repair your face & neck. Best when used in synergy with Organic Excellence's Anti-Aging Therapy face cream!
Ingredients: Water, Organic Aloe Vera Leaf Juice, Organic Sesame Seed Oil, Organic Avocado Oil, Organic Coconut Oil, Organic Shea Butter, Vegetable Glycerin, L-Ascorbic Vitamin C, Lecithin, Stearic Acid, Magnesium Ascorbyl Phosphate (Vitamin C), Chamomile Flower Extract, Hydrolyzed Silk Protein, Vitamin E, Squalene (Olive Oil), Organic Grape Seed Extract, Rosehip Oil, Essential Oils.
Overview:
Organic Excellence Skin Renewal Therapy is uniquely formulated to nourish, repair, and protect. It combines the age reversing, UV damage-fighting Vitamins C and E. An antioxidant powerhouse enhancing your skin's natural protection & rejuvenation, may help boost collagen production and brighten complexion. Ideal for all skin types, male and female alike.
Chemical free & 100% natural
Ultimate Vitamin C Skincare
Helps to mourish and repair skin
Helps protect against UV & free radical damage
Supports the repair of sun damaged skin
May help boost collagen production
Gentle enough for the whole family to use
Ingredients:
Purified Water - provides moisture and the correct consistency.
Organic Aloe Vera Leaf Juice - increases the production of collagen and elastin, soothes the skin, adds moisture and prevents moisture loss. An effective anti-inflammatory with antibacterial properties, it is rich in vitamins, minerals, amino acids, enzymes and proteins.
Organic Sesame Seed Oil - a potent antioxidant with properties similar to sunscreen that may help soften, smooth, and moisturize skin. Sesame Oil may be one of the best anti-aging oils for skin. It contains vitamin E in abundance along with vitamin B-complex and vitamin A which helps nourish and rejuvenate. Along with potent antioxidants, it is rich in phosphorus, copper, calcium, zinc and magnesium. It has been shown to improve circulation and may be beneficial in the prevention of acne.
Organic Avocado Oil - assists in the regeneration of skin cells. An antioxidant rich in vitamin E, potassium and oleic acid, it helps reduce age spots and repair sun damage while nourishing your skin with moisture.
Organic Coconut Oil - traditionally used to add moisture, smooth skin tone, and protect against harmful ultra-violet rays.
Organic Shea Butter - protects the skin from both environmental and free-radical damage. It contains vitamins A & E, and has demonstrated both antimicrobial and anti-inflammatory properties. It acts as a penetrating moisturizer and offers many great benefits, especially to dry skin. It may help promote cell regeneration and circulation, making it a wonderful healer and rejuvenator for troubled or aging skin.
Vegetable Glycerin - a humectant used to help retain moisture. Extracted from vegetable oils, we utilize its ability to act as a natural preservative.
L-Ascorbic Vitamin C - a powerful antioxidant shown to reduce the appearance of wrinkles, protect & increase collagen production, protect against sun damage & free radicals, reduce hyper-pigmentation & even skin tone, and brighten your complexion.
Lecithin - a building block in cell membranes that works to protect cells from oxidation. It may help soften skin and protect against sun damage & skin irritations. An all-natural emulsifier with excellent medicinal properties.
Stearic Acid - is derived from vegetable fatty acids. It has traditionally been used to help soothe and soften skin while acting as a natural emulsifier.
Magnesium Ascorbyl Phosphate (Vitamin C) - may help reduce moisture loss, promote collagen production, and protect skin from damaging ultra-violet rays
Chamomile Flower Extract - traditionally used to help soften the skin and may improve tissue regeneration. Used for centuries in the healing of wounds and reducing inflammation
Hydrolyzed Silk Protein - used as a key ingredient for its ability to repair damaged skin. Firming and very moisturizing, it easily absorbs deep into the skin due to the low molecular weight of silk amino acids.
Vitamin E (Tocopherol) - one of the most powerful antioxidants for maintaining beautiful skin. Vitamin E reduces the effects of pollutants and ultra-violet rays and heals, rejuvenates, softens, soothes, and protects your skin while acting as a natural preservative.
Squalene (Olive Oil) - naturally derived from olives, and helps moisturize, rejuvenate and protect skin
Organic Grapeseed Extract - helps maintain elasticity and stabilize collage structures in your skin. This powerful antioxidant inhibits the production of free radicals and reduces inflammation. Also an excellent, all-natural preservative.
Rosehip Oil - is rich in the powerhouse antioxidant Vitamin C