Derm-Essentials Therapeutic Soap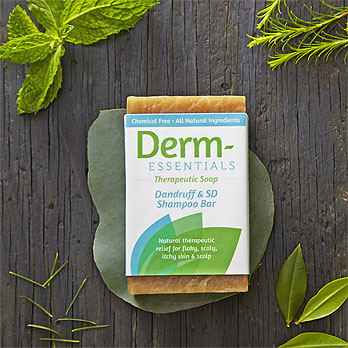 Item:

Derm-Essentials - Dandruff and SD Shampoo Bar Soap

Info:

3.5 oz (100 g) bar

Price:

$6.00

Save:

2 or more:

$5.40

| 4 or more:

$5.10
Dandruff & SD Shampoo Bar - loaded with therapeutic anti-inflammatory, anti-microbial, and anti-fungal essential oils & extracts...this soap is perfect for those with Seborrheic Dermatitis or severe dandruff. Works great for skin, face, scalp, and hair!
Ingredients: Saponified Oil Blend (Organic Extra Virgin Olive Oil, Organic Coconut Oil, Organic Sustainable Palm Oil, Organic Raw Shea Butter, Sweet Almond Oil, Castor Oil), Essential Oil Blend (Niaouli, Rosemary, Thyme, Patchouli, Peppermint), Vegetable Glycerin, Olive Leaf Extract, Vitamin E, Aloe Vera Powder
Overview:
All-natural organic bar soaps that are gentle, yet therapeutic, for sensitive and problematic skin. Derm-Essentials Therapeutic Soaps are made from only the very best organic & natural ingredients, essential oils, and plant extracts with absolutely no artificial chemicals, fragrances, or preservatives. The result is a wonderful handcrafted soap that lathers well and leaves your skin feeling clean and refreshed!
Handcrafted in small batches
Formulated for all skin types
Gentle enough for skin, face, scalp, and hair
100% all-natural, organic, and vegan ingredients
Gluten free, chemical free, and cruelty free
No GMOs, no soy, and no dairy
No synthetic fragrance/pthalates
No artificial preservatives
60 day money-back guarantee - we only want happy satisfied customers :-)
Customer Feedback:
*The following testimonials were taken directly from unsolicited customer emails (which I really appreciate by the way). It's important to remember that results may vary from person to person though, and no topical product should be considered a permanent cure.
"I recently received the derm essentials skin soothing bar. I am in love! A few months ago I started having mass breakouts on my face particularly around my nose, eyes and mouth. I started using a steroid cream that has not worked and I couldn't get a dermatologist appt until the end of Aug.! I started doing some research and came across your website- thankfully! It's only been about a week since I started using this twice a day and my face is almost completely clear! Thank you!!"
-Wendy T.
"I have to thank you for the sample bar of soap, the lemon-lavender clay detox soap. I received it yesterday with my order of the 100% Pure facial cleanser. I tried it this morning and I've never been so impressed by a bar of soap. I usually steer clear of the bar soaps. My skin STILL feels great! I told my husband that he should try this soap, so I'm going to order the sampler with the 3 different ones. He'll probably go for the unscented one, but I'm hoping he likes the dandruff & SD soap as well. I'll keep you posted! But, my main point is THANK YOU for the sample. I probably never would have tried it, because I never would expect it to be as good as I found it to be!" *Disclaimer
-Patricia K.
"I just had to let you know how happy I am with your product and to say thank you for making it. I have suffered from facial seb derm for several years and have yet to find anything that really works at controlling it until now. I have tried several prescription creams that my dermatologist recommended and some were almost over a $100 per prescription, but none of them have done what your natural stick and soap has been able to do. I have seen a remarkable improvement in just 3 applications. Also, a big shout out for including a sample of your seb derm soap. I didn't originally order it, but loved it after using it just a couple of times and I thank you! I am ordering a full bar of soap, another stick, the light ointment since I can see this is going into the control mode and I can't wait to try the calming soap too and I ordered one for a friend who suffers from rosacea. Thanks again!!" *Disclaimer
-Jill K.
"I wanted to update you on my progress. I have really fallen in love with the Bar Shampoo for Severe Dandruff. I have used it for a little over a month now and the progress is amazing!" *Disclaimer
-D.G.
"Thanks Scott. We have bought the soap on your recommendation and finding it quite good." *Disclaimer
-L.D.
"It works great. Lasts forever and no scratching. If you have any left, send them to me now. After all these years of having my wife tell me I am stupid because I buy this or that she finally, reluctantly, complimented me on my purchase of the soap bar." *Disclaimer
-Bill F.
"I tried the Derm-Essential for SD and Dandruff bar soap and I liked a lot. I have never seen a similar product in Brazil. It's amazing." *Disclaimer
-Michel M.
"I'm so happy that you were able to get permanent access and branding of the Dandruff & SD Shampoo Bar!!! I plan on being a lifetime user of this bar so I wouldn't know what to do with myself had you not gotten that access. I use it on my face 2x/day religiously and periodically on my scalp to replace my Rx shampoo. THANK YOU SO MUCH!!!!" *Disclaimer
-Deb H.
"I don't know if I'd gotten back with you on your new soaps. I've been using the Anti-Dandruff bar first and it's AWESOME! I'm back as your customer just based on that soap." *Disclaimer
-Anna A.
"Got my soap and only been using it for 2 days and it totally controlled the flaring!!! Thank you so much :) Looking forward to trying your other products!!!" *Disclaimer
-A.L.
"Thank you! Your products have brought me such relief after 4 years of dr visits, injections, shampoos, creams, & sprays. Before I starting using your products my scalp would be so dry, raw & sore that I was unable to brush my hair some days. In my last order I was given the therapeutic bar of soap. I LOVE IT! I will be placing another order soon." *Disclaimer
-Sharon C.
"Hi Scott! Good news. I am happy to let you know the soap is fantastic! The few times I have used it, is showing good results. My SD on my face no longer feels like sandpaper. I am also using it as shampoo. I love how it lathers. Just like shampoo. I just ordered 4 more bars because my son has the same SD as me, so I am going to give him my other bar. So glad you let me know about this soap. I will certainly pass this on to others." *Disclaimer
-Gladys S.
"Your two new soap bars have helped me so much! Is there any chance you could make them into a liquid soap for more portable use?" *Disclaimer
-Evan B.
"Hello Scott. My husband uses your Derm-Essentials Therapeutic Soap for SD to calm his itchy scalp. I have battled toenail fungus and athlete's foot for a very long time. One day, I decided to try the Derm-Essentials Therapeutic Soap on my feet. I still continue to wash my feet every night with the Therapeutic Soap, and I have had incredible results! I have no more toenail fungus or athlete's foot!! Just thought that information might help some of your other customers. Thank you so much for the work that you do." *Disclaimer
-Mary H.
"I just wanted to thank you for coming up with the products for seborrheic dermatitis. I have battled it for close to 2 years and I have gotten wonderful results from using the soap everyday. Between it and occasional use of the prescription medication I am almost free of this horrific skin problem. To have it on your face is so undesirable, especially being a woman and needing makeup for business. I had given up on the medications doing any good, but once I started using the soap I started getting results quickly. It will definitely be a part of my routine for a long time to come." *Disclaimer
-Pam C.