Derm-Essentials for Healthy Hair and Scalp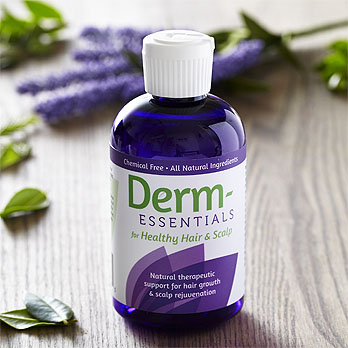 Item:

Derm-Essentials for Healthy Hair & Scalp (oil) 4 oz.

Info:

4 fl oz bottle oil

Price:

$22.00

Save:

2 or more:

$19.80/ea (Save 10%)
Derm-Essentials for Healthy Hair & Scalp (oil) is an all-natural blend of nourishing organic oils, therapeutic essential oils, and beneficial herbs proven to encourage hair growth and promote overall scalp health. Helps to increase scalp circulation, prevent further hair loss, and stimulate new hair growth!
Ingredients: Organic Jojoba Oil, Organic Argan Oil, Organic Castor Oil, Essential Oil Blend (Rosemary, Lavender, Himalayan Cedarwood, Virginian Cedarwood, White Thyme, Clary Sage), Organic Bhringraj Powder, Organic Amla Fruit Powder, Organic Matcha Green Tea Powder, Natural Vitamin E
Overview:
Derm-Essentials for Healthy Hair & Scalp is an all-natural blend of essential oils and organic herbs proven to encourage hair growth and promote overall scalp health. I've actually developed two separate (but similar) formulas. One is oil-based (organic jojoba, organic argan, and organic castor oils) with an all-star lineup of nourishing and beneficial herbs & essential oils. The other is a lighter oil-free version with organic 4x strength aloe vera, pure caffeine (scientifically proven to promote hair growth), and a slightly less concentrated blend of amazing scalp-healing essential oils.
Both are wonderful for increasing circulation to your scalp, preventing further hair loss, and stimulating new hair growth. They also work great at fighting severe dandruff & Seborrheic Dermatitis! Keep in mind that hereditary hair loss is difficult to overcome (and diet plays a large role as well), but I'm extremely confident these two products will work very well for most people, and give you the extra boost you need for a happy healthy scalp & hair regrowth!
Natural therapeutic support for hair growth & scalp rejuvenation
100% natural & organic ingredients - absolutely NO chemicals or preservatives
60 day money-back guarantee - we only want happy satisfied customers :-)
FAQs:
What's the difference between the two different versions?
Derm-Essentials for Healthy Hair & Scalp (oil) - This formula is oil based (organic jojoba, organic argan, and organic castor oils) which helps to penetrate and nourish your scalp & hair follicles. It contains a full strength essential oil blend (proven to help support hair growth), and three amazing herbs well known for their beneficial effects on scalp health and hair growth.
Derm-Essentials Light for Healthy Hair & Scalp (oil-free) - This light formula has an oil-free base (organic 4x strength aloe vera + organic vegetable glycerin), a less potent smell, and is super easy to rinse out with just water. It contains the same essential oil blend (slightly less concentrated) along with pure caffeine - which has been scientifically shown to help stop hair loss, and promote new hair growth.
Which one should I try?
I actually recommend alternating between the two formulas, as they each contain different therapeutic ingredients. But if you're only interested in one, then I would probably go with the oil version - as it's a bit stronger.
Will this help with my Seborrheic Dermatitis or dandruff?
While neither is specifically formulated for dandruff or seborrheic dermatitis, both formulas actually work really well at relieving dandruff & SD symptoms. And if the original SD oil didn't agree with you, this has a different (and less potent) blend of essential oils that you may find more tolerable.
How often should I use the Derm-Essentials oil and/or light liquid?
Again, I recommend alternating between the two formulas. Perhaps one night use the oil, take a night off, use the oil-free the next night, take a night off, and repeat. Or you can do whatever works best for you. Do not use either one continuously (every day) for long periods of time (more than 2-3 weeks) though. Longterm overuse of some essential oils can cause skin sensitization and/or allergic reactions in rare instances.
How do I apply the oil/liquid?
The easiest way is to apply a small amount of oil (or liquid) directly onto various areas of the scalp and massage in with your fingertips. Or you can apply a small amount onto your fingertips and then massage it into the scalp. Having someone else apply it for you may be easiest option though.
How long should I leave it on?
I recommend applying the oil or liquid at bedtime, and then washing or rinsing in the morning (optional). But again, you can really do whatever works best for you.
Do I need to wash my hair every morning after using the oil/liquid?
No, absolutely not. You can leave the oil (or liquid) in for as long as you'd like. Most people prefer to wash it out however, as it is a bit messy.
Does it smell?
This Derm-Essentials blend has a nice mild & soothing scent with a hint of thyme. It's not overpowering like the SD oil. With that said, essential oils are very potent and some people may find it too strong for their liking. However, the oil-free light version is less concentrated - so the aroma isn't quite so strong.
Why is the light version described as "oil-free" when it contains essential oils?
Essential oils aren't really "oils" as you think of them. Fixed oils (e.g. jojoba, argan, castor, etc.) are usually pressed from the nut/seed kernel of a plant, and are mainly made up of fatty acids. Whereas essential oils are usually steam distilled from the leaves, flowers, or bark of a plant - and are made up of "volatile organic compounds". Essential oils don't really look, feel, or act like regular fixed oils - so that's why I use the term "oil-free".
Will the oil stain my pillow?
Yes it will. I recommend using an old towel on top of your pillowcase at night to protect it from the oil. A shower cap works fine too. I recommend taking the same precautions for the oil-free light version as well.
Is the oil hard to wash out?
Yes, being 100% oil - it's a bit difficult to fully wash out of your hair. You may need to shampoo and rinse more than once. But hopefully the benefits outweight the slight inconvenience! Or you can try the oil-free light version which is super easy to wash out :-)
Is it safe to use while pregnant or nursing?
I (tentatively) don't recommend using Derm-Essentials while pregnant or nursing. Some essential oils and herbs are said to affect menstruation and possibly induce labor, but there is very minimal scientific proof of this - especially for topical application. But it's probably better to be overly cautious and avoid it while pregnant or nursing.
How long does it take to see results?
That's hard to say. Everyone is unique and our bodies respond differently. For new hair growth, you should really commit to at least 6-8 weeks before expecting to see significant results. But if for some strange reason it doesn't do the trick for you, just send it back for a quick & easy refund! And remember, a healthy diet & supplements (if needed) can play a huge role in hair recovery. I really recommend having some blood work done to test for any nutrient deficiencies (e.g. iron, B-12, etc.) or thyroid issues.
What blood tests do you recommend?
I'm not a doctor, so I can't really give medical advice - but from personal experience with my wife, I would strongly recommend having your iron levels/ferritin checked at the bare minimum.
What's the shelf life?
Conservatively, the shelf life is at least 1 year from the date of manufacture if stored properly (room temperature or below, and out of the sun). Add 6 months if you keep it refrigerated.