Derm-Essentials for Seborrheic Dermatitis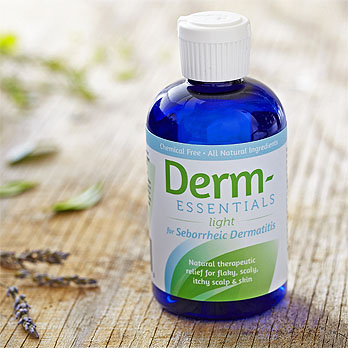 Item:

Derm-Essentials Light for Seborrheic Dermatitis (oil-free) 4 oz.

Info:

4 fl oz bottle oil-free

Price:

$15.00

Save:

2 or more:

$13.50

| 4 or more:

$12.75
Derm-Essentials Light for Seborrheic Dermatitis (oil-free) - This new formula is less concentrated and great for maintenance applications once you've got your SD symptoms somewhat under control. It's oil free, water soluble, has a less potent smell, and is super easy to rinse out with just water.
Ingredients: Organic Vegetable Glycerin, Organic Aloe Vera Leaf Juice (4x Concentrate), Essential Oil Blend (Australian Tea Tree, Himalayan Cedarwood, Virginian Cedarwood, Lavender, Rosemary, Patchouli, Oregano, Peppermint, Eucalyptus), Organic Guar Gum, Natural Vitamin E
Overview:
In 2008, after suffering from severe Seborrheic Dermatitis for over 5 years, my normally chipper wife was distraught, emotionally drained, and desperate for relief. The constant barrage of itchy scalp, scales, flakes, and hair loss was definitely taking its toll. She had been to doctor after doctor with the same lack of results time after time...none of the countless prescriptions or home remedies she tried did much of anything.
Finally she stumbled upon a blend of essential oils from New Zealand that worked fairly well. It didn't totally get rid of all her symptoms, but it was by far the best treatment to date. I thought I could make something a little better, so I did tons of research on essential oils, their medicinal properties, proper combining, ratios, etc. It took a few months of trial and error, but I eventually developed a blend of oils that wiped out her SD symptoms entirely!
Seeing how impressive the oil was at clearing up her SD, my wife suggested I make it into a product so others could benefit. I thought that was a great idea, but first wanted to make sure it wasn't just a fluke and would actually work for other people as well. So I performed a small "mini trial" on 30 other SD sufferers. The results were better than I'd hoped for...nearly everyone saw a huge decrease in scales, flakes, redness, itchiness, and dryness.
Fast forward about 12 years, and Derm-Essentials for Seborrheic Dermatitis is still going strong! I've made a few small tweaks based on customer feedback, but it's basically the same formula that worked so well for my wife. I often receive emails from happy customers, and all of the testimonials below are 100% real and unsolicited.
Now not everyone who uses Derm-Essentials sees miraculous results, and I don't really think of it as a permanent "cure" for SD. But it does work great for most SD sufferers, and can totally erase the symptoms of Seborrheic Dermatitis for many. I can definitely understand you being a bit wary of spending more hard earned money on yet another product for SD, but if for whatever reason it doesn't work for you - just send it back and I'll issue a refund right away. Good luck either way :-)
Natural therapeutic relief for flaky, scaly, itchy scalp and skin
100% natural & organic ingredients - absolutely NO chemicals or preservatives
60 day money-back guarantee - we only want happy satisfied customers :-)
FAQs:
How often should I use the Derm-Essentials oil/stick?
I suggest applying the oil (or facial stick) daily at bedtime for about one week and then gradually taper off to 1-2 times per week (or only as needed). Do not use continuously (every day) for long periods of time (more than 2-3 weeks) though. Longterm overuse of some essential oils can cause skin sensitization and/or allergic reactions in rare instances.
How often should I use the Derm-Essentials Light liquid?
After the initial treatments with the oil (or facial stick), you can use the light version as needed to maintain healthy skin & scalp. Do not use continuously (every day) for long periods of time (more than 2-3 weeks) though. Longterm overuse of some essential oils can cause skin sensitization and/or allergic reactions in rare instances.
How do I apply the oil/liquid?
The easiest way is to apply a small amount of oil (or liquid) directly onto the affected areas of your scalp or skin and massage in with your fingertips. Or you can apply a small amount onto your fingertips and then massage it into the affected areas. Having someone apply it for you may be easiest if your hair is really thick or long.
How do I apply the facial stick?
Just apply it as you would chapstick or deodorant. It's really easy thanks to the lotion stick dispenser - and it glides on super smooth.
How can I remove the scales on my scalp/skin?
The original Derm-Essentials for SD oil version works best for exfoliating and loosening scales. First, apply the oil to your affected areas normally and let it sit overnight. In the morning, apply a little more oil to your scaly areas. Using a fine tooth comb, very gently loosen the scales and lift them away from your scalp/skin. Finally, wash with an all-natural soap or shampoo.
Do I need to wash my hair/face/skin every morning after using the oil?
No, absolutely not. You can leave the oil in for as long as you'd like. Most people prefer to wash it out however, as it is oily.
Does it smell?
Derm-Essentials has a fairly strong medicinal scent (think tea tree oil & menthol), but most people don't mind the smell. In fact some even love it! With that said, essential oils are very potent and some people may find it too strong for their liking. However, the oil-free light version is 1/2 strength - so the aroma isn't quite so strong.
Is it okay to use on my face, scalp, skin, etc.?
Yes, you can use it pretty much anywhere on your body. Just be careful to keep it out of your eyes, nose, mouth, and "delicate parts". The eyebrows are fine, but I recommend avoiding your eyelashes.
Why is the light version described as "oil-free" when it contains essential oils?
Essential oils aren't really "oils" as you think of them. Fixed oils (e.g. jojoba, coconut, olive, etc.) are usually pressed from the nut/seed kernel of a plant, and are mainly made up of fatty acids. Whereas essential oils are usually steam distilled from the leaves, flowers, or bark of a plant - and are made up of "volatile organic compounds". Essential oils don't really look, feel, or act like regular fixed oils - so that's why I use the term "oil-free".
Will the oil stain my pillow?
Yes it will. I recommend using an old towel on top of your pillowcase at night to protect it from the oil. A shower cap works fine too.
Is the oil hard to wash out?
Yes, being 100% oil - it's a bit difficult to fully wash out of your hair. You may need to shampoo and rinse more than once. But hopefully the benefits outweight the slight inconvenience! Or you can try the oil-free light version which is super easy to wash out :-)
Is it safe for children?
Derm-Essentials should be okay to use on older children (12+ is preferred) with proper adult supervision. Make sure they don't swallow it or rub it in their eyes. And watch for any signs of irritation or allergic reaction. Essential oils are very potent, and can occasionally cause skin irritation for those with ultra-sensitive skin - like infants, toddlers, and young children.
Is it safe to use while pregnant or nursing?
I (tentatively) don't recommend using Derm-Essentials while pregnant or nursing. Some essential oils and herbs are said to affect menstruation and possibly induce labor, but there is very minimal scientific proof of this - especially for topical application. Derm-Essentials for SD does contain a small amount of Oregano oil which is semi-questionable, so it's probably better to be overly cautious and avoid it while pregnant or nursing.
What are the ingredients?
Please see above for a full listing of ingredients for each formula. We use only all-natural & organic ingredients, with absolutely no chemicals whatsoever.
How long does it take to see results?
That's hard to say. Everyone is unique and our bodies respond differently. Typically, you should see results for your Seborrheic Dermatitis within one week (7 applications) if it's going to work for you. Often times there's an immediate difference though. And if for some strange reason it doesn't do the trick for you, just send it back for a quick & easy refund :-)
What's the shelf life?
Conservatively, the shelf life is at least 1 year from the purchase date if stored properly (room temperature or below, and out of the sun). Add 6 months if you keep it refrigerated.
Customer Feedback:
*The following testimonials were taken directly from unsolicited customer emails (which I really appreciate by the way). It's important to remember that results may vary from person to person though, and no topical product should be considered a permanent cure.
"A long overdue THANK YOU! I have struggled with both seborrheic and perioral dermatitis for about 3 years now, and your product cleared up my skin immediately. My symptoms were primarily on the sides of my nose and my chin area. After one application the redness and flaking skin nearly disappeared. I have been using the facial stick once a day (before bed) and my symptoms have yet to return. I am so grateful to have found something that is natural that finally works! I have already recommended this product to several people I work with - and a few have already placed their orders. I look forward to trying some of your soaps in the future as well. Cheers on an AMAZING product! Thanks again!"
-Katie M.
"I recently discovered the wonders of the products by Trust Nature and must write to tell you about my excitement! I was diagnosed with seborrhia on my face and scalp couple years ago. Although it hasn't disappeared completely, I was prescribed some medication for some relief from it. A friend told me about Trust Nature and I ordered the Derm Essentials stick for more relief and it has been quite helpful in relieving the discomfort on my skin. Many people who come near me will comment on the pleasant scent emanating from me and I tell them about your product. I just ordered a couple more sticks for more comfort in my battle against the nuisance of seborrhia. Thanks for your product and I hope it's available forever!" *Disclaimer
-Stephen E.
"I can't thank you enough. I haven't used my prescription medication since receiving the face balm in the mail. I actually have my nose and face back. I'm blown away by the power of this product. I have struggled with this for years and I feel like it's finally under control. Thank you very much!!" *Disclaimer
-Dave B.
"Thank you. I have had horrible dandruff for 10 years - sores, red patches, burning and looks like everywhere I go it is snowing. Your product is amazing! ALL my symptoms have gone away except slight tiny flakes. I also read your article you sent me and have changed my diet. God Bless. I have a new life." *Disclaimer
-Cindy B.
"I wanted to give you follow up on the SD soap, Organic Excellence Facial moisturizer, and SD Facial stick. The soap has been amazing. It is now my go to facial soap wash. It leaves my skin soft, moisturized, and balanced. I have sensitive combination acne prone skin and this has been difficult in the past. I've taken oral steroids and antibiotics for my skin. I've been prescribed countless topical creams and gels. The SD stick cleared up the SD flare up on my face in about 2-3 days without triggering acne. And lastly the moisturizer is WONDERFUL. I have not been able to use a facial moisturizer in over 6 years without triggering a severe breakout and redness. Thank you for your products and what you do. I just wanted to let you know how much you've blessed me with your products. I never want to be without your scalp or face products again. Thank you. Thank you. Thank you!" *Disclaimer
-Ashley T.
"Got incredible results with your product (***SD stick***) absolutely loved it will order time and time again. I actually have started using it on my entire face and neck. Thank you for your product!!!" *Disclaimer
-Paula S.
"I just wanted to send a quick email to thank you for your product. I have been battling with my face flaking and blotchy for quite some time and have tried many products and coconut oil, but nothing would work. Although I never did go to a Dr to get a diagnosis, upon reading online about my symptoms it seemed to be SD. I found your website and decided to give it a try. The facial stick I purchased cleared up my face in a matter of days and I am extremely grateful because I finally feel and look like myself again! SD or other conditions can be very frustrating and can damage peoples self esteem and I wanted to personally Thank you for creating this amazing product! I will continue to order and will recommend you to any who are also searching for relief." *Disclaimer
-Chris P.
"I recently discovered that I have sebhorric dermatitis, but can not and will not use steroids as a treatment option. I'd tried every cream, oil, lotion you could imagine and NOTHING worked. My face was constantly cracked, flaking, and red...I couldn't even wear makeup to cover it because it would just flake off with my skin. Well, after only 6 days of the facial stick 2x a day all over my face (even in my eyebrows...they're sometimes the worst part of my whole face!) and my face is the clearest, calmest, and smoothest it has been in YEARS. I'm absolutely amazed. My face doesn't hurt and I feel confident in my skin again. The best part, I'm treating it naturally!!! I can't even begin to thank you enough for this miracle product!" *Disclaimer
-Lyn M.
"I had SD that kept worsening. My breakouts left my face looking damaged in a way I hadn't experienced since teenage acne. My doctors at the VA Hospital kept trying different treatments with me, which ironically made the problem even worse. So when I saw your site, I figured it was worth the try. And I am SO glad that I did! Now at the very first sign of a flareup, I apply your SD oil which nips it in the bud. In fact, in the two years since I first tried your product, I'm pleased to report my SD has now been kept well under control. (It also seems that in my particular case, my SD may be triggered by eating bread and other starches. Because the less I eat of those, the fewer and lighter my flareups.) And I'm also pleased to report, that when I told my VA doctor how my SD was now under control, I showed her the bottle of your oil. She was very pleasantly surprised and took note of your product. Hopefully other Vets like myself may soon get this same level of easy & effective SD treatment. Very well done!" *Disclaimer
-Rob W.
"Thank you all sooooo much!! I'm so glad I came across your website through google searching one day!! These products are inexpensive and work great with my SD!! No more pricey prescriptions!!!! Love the facial stick :)" *Disclaimer
-Jeannete M.
"I just wanted to let you know that I ordered the original Derm Essentials along with the 100% Pure Shampoo and Conditioner. I used it for a week as recommended, and my SD has greatly improved. My scalp does not hurt like it did and the itching has lessened. I usually wash my hair twice a week, and will probably use the Derm Esssentials the night before I shampoo for a while longer unless you recommend otherwise. Again, thank you so much for your products. My husband has even commented that my hair looks a lot better." *Disclaimer
-Dianne M.
"Thanks for the products, it took 2 weeks to arrive but it is absolutely worth the wait. After using only a few days the affected skin is looking better with almost no flaking and markedly reduced redness. If you need testimonials please feel free to use my words. I will be a repeat customer and wish you the greatest success!" *Disclaimer
-Aeron K.
"Thank you thank you thank you! So much! I've been struggling with Sebhorria dermatitis for years now and I got this derm essentials facial stick 2 days ago and it's already clearing up! Worked better and quicker then the stuff prescribed to me. Very easy to use and smells great! This is the best and I'm totally a very satisfied customer. My face finally feels normal again! :D" *Disclaimer
-Kevin C.
"I just had to let you know how happy I am with your product and to say thank you for making it. I have suffered from facial seb derm for several years and have yet to find anything that really works at controlling it until now. I have tried several prescription creams that my dermatologist recommended and some were almost over a $100 per prescription, but none of them have done what your natural stick and soap has been able to do. I have seen a remarkable improvement in just 3 applications. Also, a big shout out for including a sample of your seb derm soap. I didn't originally order it, but loved it after using it just a couple of times and I thank you! I am ordering a full bar of soap, another stick, the light ointment since I can see this is going into the 'control mode' and I can't wait to try the calming soap too and I ordered one for a friend who suffers from rosacea. Thanks again!!" *Disclaimer
oduct works very effectively and quickly to take care of the problem. I am so amazed at how wonderfully it works! Also, as a bonus, I always get compliments at my job about how wonderful my hair smells when I do"
*Disclaimer
-Gerri P.
"Just a quick note right back at you regarding your product 'Derm-Essentials'... I ordered up a pair of bottles a couple months ago and began use of it right away as per directions and the 'snowfall' on my dark T-shirts began to melt. I told my MD about how well your product was working and he dismissed it as some 'internet junk' for there was no cure for seborrheic dermatitis according to His Royal Opinion and I was just wasting my money. Well, I'm here to tell you that I'm dandruff-free and down to the 'use occasionally' phase of treatment. That, and the use of a hard-to-find fine-toothed comb to finish up the job and I'm not afraid to 'greet my public' with my now re-grown snow-white beard! Many thanks and best regards." *Disclaimer
nd I decided to try mixing several anti-fungal EO's with a carrier oil and even tried it in my own handmade lotion base. It wasn't bad, but I had to keep slathering "
*Disclaimer
-Denise C.
"I received my products swiftly and was eager to start using them right away. I have had seborrheic dermatitis since I was a teenager, and have dealt with the severe itching, ugly, flaky scalp for more than 25 years. I've used the expensive products prescribed to me by dermatologists, the expensive products at the beauty salons, and just drugstore products hoping something would work that wouldn't be so costly. Seborrheic dermatitis has dictated my hairstyle and the clothes I wear for years, and has made me very self-conscious. Anyway, I write to you to thank you....Finally, an affordable product that works.... Really works! I am in awe at the results and had to share with you what only a few of your products have done with only 2 treatments. I still have other products that I ordered that I still have to use, and am excited to see the results of those, as well. I plan to continue to use your products and have already let others know about Trust Nature products. I also plan to let my hair dresser know so that she can recommend these products to clients with same and similar conditions." *Disclaimer
-Meredith B.
"I'm writing you to thank you for your amazing product! I took another chance on something that I hoped would help, and to my amazement....IT DID! I've applied it twice now. Both times before bed and let it stay on my scalp all night long. Wash it out in the morning, and the scales are just peeling right off. After 2 applications, my scalp is 90% better! That's really saying something because my scalp was so so terrible before. I've suffered with this for many, many years. Been to several dermatologists and the only useful thing they did for me was give me an actual diagnosis. Again, thank you so much for this product! I just ordered another 4 bottles! You've gained a loyal customer!" *Disclaimer
-Holly A.
"Thank you. The oil I bought from you cleared my scalp in less than a week. The spot by my eyebrow is going a little slower. I tried all the over counter stuff to no avail. I found your website and thought 'what have I got to loose'. This problem had just started about 2 months when I ordered the oil and soap. I was amazed how quickly my scalp cleared up. I was traveling and couldn't get into a doctor. I am so glad I didn't. I was a my hairdresser and she said my scalp looked really good. I am spreading your word whenever I can." *Disclaimer
-Sandra B.
"About three weeks ago, I ran out of my usual cream for an irritating skin condition I have called Seborrheic Dermatitis. I called my Dermatologist to request a refill of my prescription, but she denied my request and demanded that I visit the office two months later. I was frustrated, annoyed, irritated, angry, but most importantly let down by my Dermatologist response. Later that day, I went online and searched for 'over the counter' products that I could purchase without a prescription. Two results came up...CeraVe Healing Ointment and Derm-Essentials for Facial Seborrheic Dermatitis. The only product that was available for immediate purchase was CeraVe Healing Ointment. As I walked throughout Target, frantically looking for the product, I finally came across it at the cost of $11.00. I was so desperate to stop the itching, that I immediately opened the container and splattered the cream all over my face only to be disappointed that I paid $11.00 for petroleum jelly. It was at that point that I decided to order Derm-Essentials because it was the last option I had left outside of waiting 2 months with irritated skin. The product arrived in 2 days, which I was very pleased with. Once I received it, it was like 'Deja Vu'...I repeated the same steps as I did with CeraVe, only to get a completely different result. I felt immediate relief. The dead skin started to peel off and my skin color began to come back. It took 5 days for my face to be completely healed. This has been the BEST product I've used for my skin condition hands down. I received so many compliments at work and people asked all the time what did I use to clear my skin. I am always proud to say Derm-Essentials. Thank you for providing such a great product." *Disclaimer
-L.M.
"I should have mentioned this before. After using your Derm Essentials for about a year my Seborrheic Dermatitis has disappeared now almost one year. For me it worked. It was mostly on my chin." *Disclaimer
-Don G.
"Just wanted to say after having received my order of your facial stick for seborrheic dermatitis how pleased I am and so grateful that you have come up with this product. I've been a sufferer of terrible SD on my face since I was about 15 and a sufferer of severe eczema all my life, six years on and I still have not found anything that clears up my face as fast as this product. I absolutely love the natural smell and the fact that all the ingredients aren't steroidal, as that was the first route I took when my condition developed. SD has been plaguing my life for years but I finally feel as though I might be able to start living normally again, all thanks to your product!" *Disclaimer
-Nathan C.
"I am pleased to say, after using the Derm-Essentials Light it has given me much better results than the prescription shampoo I have been using. You can be assured I will be ordering this product again. I am thrilled with the results. Thank you so much for your great customer care and service. Have a wonderful day and week." *Disclaimer
-Judith T.
"Thank you a billion for creating the Derm-Essentials Light! It manages the scalp much better I think because it doesn't have an oily base. The oilier base of the original seemed to after a while exacerbate the problem a bit since, especially when one's skin is already quite naturally oily like mine. And in these hot summer temperatures, I experienced that the oily base of the original D-E makes my scalp feel like it can't breathe as well, if that makes sense. But the D-E Light delivers the soothing medicinal qualities while keeping the scalp feeling light and breathable! So, you can definitely put this in the positive review column and I hope you continue making it! Thank you and have a great week!" *Disclaimer
-Greg M.
"I really like the light Derm Essential oil for my scalp. Please keep up the good work. Your product has helped me so much more than the Dermatologist and his expensive chemical treatment. I only use your products now and really like the 100% Pure shampoo and conditioner." *Disclaimer
-Karen C.
"I'm largely 'itch-scratch-and-plaque-free' since I started using the original formula. And the hair that the dermatologist said was gone forever, has grown back. Have now used the light version, with the same excellent results. Top marks for both! Thank you, Scott." *Disclaimer
-C.B.
"Thanks, Scott. This product actually works for my SD. I'm almost at the maintenance point, so maybe I'll try the new cream then. To this point, this is the only thing that has genuinely helped to heal the skin." *Disclaimer
-Aaron D.
"I wish to say I am so grateful you developed the Derm Essentials and my son thanks you very much as well!! It is a life changer for him! He has really suffered his whole life with his scalp since he was a baby and as a teen it has been especially rough and had gotten worse. This works so quickly and effectively for him, with lasting results and he has relaxed, what a load off his mind! We had never seen anything like it :) Thank you so much!" *Disclaimer
-Debbie S.
"I just wanted to let you know how much I appreciate your help for people with this frustrating condition. I don't even have SB, but your products are really helpful in alleviating some of the symptoms of my auto-immune disorder. It is called lichen planus or lichen planopilarus and primarily affects the scalp and face. It is so rare that most people have never heard of it. It took 2 dermatologists following it for a year before they were able to come up with the diagnosis. They prescribed a very expensive topical steroid cream and basically said "it's not contagious and it won't kill you." Researching on my own, I stumbled across your web page and it has made a huge difference in my quality of life. Your products for SB provide wonderful relief for the symptoms that are present constantly. And believe me I tried tons of other things that did not help. The Derm-Essentials oil helps relieve the itching, burning, and soreness on my scalp. I also use it as a vehicle for applying the steroid medicine -- it helps apply it more easily, uniformly and with less waste. Your Derm-Essentials stick is perfect for my face. No lotion, no matter how expensive, had been able to help with the exceptional dryness of the skin on my face, especially at the hairline. Now I plan to try barberries to see if that can be a useful adjunct. Would never even have heard of them if not for your continuing efforts on behalf of your customers." *Disclaimer
-Cynthia F.
"I just want to say a big THANK YOU for your product Derm Essentials for Seborrheic Dermatitis. This product has been a huge lifesaver for me. I have been suffering with this condition for years on my scalp and have frequent breakouts. It can be very embarrassing at times. I usually have to go to the doctor and take prescription medication to get rid of it. But not anymore! Your product works very effectively and quickly to take care of the problem. I am so amazed at how wonderfully it works! Also, as a bonus, I always get compliments at my job about how wonderful my hair smells when I do use it. In fact, I have a couple of folks who will come and sniff my hair because they love the smell so much! Haha! Anyway, I am on my third bottle of the 4 oz size and just placed an order for two more bottles so that I will always have it on hand. I have already recommended this product to friends and family members with the same problem. Thank you again, and keep up the great work!!!" *Disclaimer
-S.B.
"I just wanted to give you some feedback on your wonderful product for Seborrheic dermatitis. I haven't been able to find anything that works as well down here in Australia, this is the first time something has given me true relief from the scale, itching and soreness that comes with this frustrating affliction. I find that the beautiful smell of this oil also enables me to wear it on my scalp most days without having to wash it out daily. Thank you so much for this remarkable product. I will continue to be a very happy customer with your excellent service too." *Disclaimer
-Jennie A.
"I am writing to tell you how very happy I am with your products! I must have had the WORST case of facial SD EVER! It was so bad that I didn't want to go to work or go out in public! I was embarrassed and depressed. It was AWFUL! I didn't like the steroid cream that my dermatologist recommended and was determined to find a natural alternative. Although my dermatologist told me that it wasn't diet-related, I somehow "knew" it had a dietary component. So, I scoured the internet looking for answers. I started myself on a modified candida diet and started taking some natural antifungals (caprylic acid, oregano oil and an probiotic to promote good gut flora). Lots of water, too. I make my own soaps, lip balms and lotions and I decided to try mixing several anti-fungal EO's with a carrier oil and even tried it in my own handmade lotion base. It wasn't bad, but I had to keep slathering it on. (I used Lavender EO, Oregano EO and Tee Tree EO in my first batch at 2% to avoid skin irritation.) I knew that natural was the answer and was looking for the right combinations to try. That is when I came across your products! I couldn't get them FAST ENOUGH! I was anxious to try them. I loved the fact that they were natural and contained some of the same oils that I was experimenting with. Fast forward a week and I have to tell you that I AM SOLD! It is about 90% better already and I do not ever want to be without your solid lotion stick! I take it with me EVERYWHERE I GO! I love that I can keep it in my pocket and it doesn't melt! While the smell is something that takes some getting used to, it is SO WORTH IT! I will be ordering this in quantity so that I always have it on hand! Thank-you SOOO MUCH for taking the time to create this WONDERFUL product! You are a GODSEND!" *Disclaimer
-Kathy K.
"Within 2 weeks of being diagnosed with Seborrheic Dermatitis I found your web site and ordered a bottle. I attribute it as a main reason my condition didn't worsen and was almost gone in 2 more weeks after using it nightly. I now use your oil every 2-3 weeks for preventative maintenance and will certainly order it again. You provide a needful service, Happy Selling!" *Disclaimer
-Sharon L.
"I just wanted to personally thank you for your amazing product Derm Essentials. My only regret is that I wished I purchased it sooner! I received the product a week ago today and have used it 7 times following the directions exactly. My scalp is so clear, I honestly do not remember the last time it looked like this. I also had some flaky patches on my ear and behind it and they are gone too thanks to derm essentials. My flaky patchy scalp has been so embarrassing and cumbersome for me. I feel like have tried every product under the sun, including raw honey and coconut oil. I only tried one prescription product and I was scared of how strong it was and the side effects. Not to mention, it didn't work!! I am truly so grateful for this product and what it has done for me. I went to the hair salon today for a haircut. This was a big step for me as I avoided anyone going near my hair due to the condition of my scalp. I brought my Organic Excellence shampoo with me to avoid any chemical laden products. This is another product I love. Thanks for the recommendation on your site! I literally can't stop checking my scalp out! It's an unbelievable feeling. I will try modifying my diet as well to reap even more benefits. I read your SD report and it really opened my eyes. Thank you again for an amazing natural product that actually works!!!" *Disclaimer
-Cristina G.
"I recently bought a derm-essentials lotion stick for some pretty extreme sebhorraic dermatitis I had all over my face that came up during pregnancy. I was a bit dubious that it would solve my problem having read all the horror stories from others that had it and were unable to get rid of it. My doctor wasn't particularly sympathetic and was only keen to provide horrible drugs that had no affect. The reviews on your website filled me with hope...the lotion has saved me from being a hermit and I no longer cry every time I'm due to go out. I can also smile proudly in photos with my newborn instead of trying to hide my face. It had completely disappeared from where I had it and is helping a lot with a new patch that's recently come up across my eyes and forehead. It has seriously changed my life. All I can say is THANK YOU!!!!!" *Disclaimer
-Sarah G.
"I have been meaning to write to you and let you know how great the Derm-Essentials has worked for me. Even four hours after I used it the first morning, I could see a difference. My face got better and better each day. Within 2 days the itching was gone, within the 3rd day the flaking had cleared up by 80%, and by the 4th or 5th day, all the redness had faded! Ultimately at the end of one week of use, I was normal again. My results were nothing short of amazing to me! I thought if there was anything I could do to spread the word so that more people could know about DE, I would! I'm so happy I stumbled upon your website, and thank you so much for creating this all natural product that works better than any prescription could. Please don't ever stop making it. And if you do, let us all know so we can stock up for life! Or, I'll buy the business from you so we can keep it going, lol!

The prescription I was using irritated my skin so badly after prolonged use and made the area around my eyes swell up like nothing I had ever experienced before. I stopped use after waking up two mornings in a row swollen. The second morning, I applied the DE and went to the dermatologist (because I told them my eye area was swollen, they wanted me to come in). By the afternoon, when I left for the dermatologist, I was amazed at how the DE I put on that morning had already made my face look better than it had any day that week. I showed the DE to my doctor and she said to stop all prescriptions and 'give it a try'. I didn't mention to her that I had already made up my mind to do just that. What I found funny, as a person who likes to use all natural products and research them, was that she read the ingredients and said 'well just be careful because there are some spices in here.' Inside, I laughed, because she probably read cedarwood, oregano and rosemary and thought of spices. Silly doctor... those are plants. :) By the way, the DE stopped burning when I applied it after a few days and this was due to my skin being so irritated by something in the precription medication. Now when I apply it, I can tell my skin is healed completely since it goes on without the stinging and burning. Anyhow, I used it for a week, and a few days here and there since, and besides some minimal flaking here and there, I would say I'm back to 100%." *Disclaimer
-T.S.
"I wanted to thank you for your great products. I have seen excellent results since I started using the oil at night and the cream during the day. It also makes me ecstatic to know there are no carcinogenic agents making my skin better. Once a dermatologist said when prescribing a cream that was $127 per tube, WITH HEALTH INSURANCE, 'You don't mind black label warnings, do you?'. I didn't even know what he meant by that. He explained and I shrugged and thought, if it helps, I suppose I will take my chances. The cream did work for my SD and only mildly, if at all, for the rosacea. Actually, I think your products have helped with the rosacea more so than anything else I have tried." *Disclaimer
-Heather J.
"I have been using Derm Essentials on my big toes (since March) for fungus and my toenails have grown out. Don't know about the cure yet, but it is definitely destroying the fungus. Have been applying it morning and night. Thanks. Thought I would pass this on." *Disclaimer
-Sue C.
"Derm Essentials has BANISHED dry seborrhea from my horse's mane, tail & forelock! I would rub it in at the hair roots/scalp every three days after brushing out the loose skin flakes with a soft rubber comb/brush. That takes some time as he is an Arabian and they have thick forelocks, manes & tails. I used it for 1 & 1/2 to two weeks. I will re-dose him with Derm Essentials when dry seborrhea outbreaks reoccur--probably when the weather cools and gets moist again. So great NOT to have to wash it out of his mane. So great NOT to have to use horribly smelly, yucky looking sulfur/pinetar creams that haven't worked well anyway. Your product is wonderful and I still have over a third of the bottle left! Thank you, Thank you, Thank you!" *Disclaimer
-Barbara E.
"I wanted to write to you and tell you that I ordered your facial stick for seborrheic dermatitis and its amazing. I just started having this problem on my face about six months ago and I was using dandruff shampoo on my face and it was drying my face out really bad and still wouldn't go away. I was worried about this stick being to greasy on my face but it really works. I was so impressed even the first two days. I can't thank you enough for making such an amazing natural, affordable product. I am so relieved to have something that helps that doesn't require putting chemicals all over my face. I will continue to purchase and I really can't thank you enough. I had become so self conscious about this and now I feel like I have a solution. Please never stop selling it!!!!" *Disclaimer
-Nicky V.
"I just wanted to let you know i received my order and i started using it right away. Saturday night was my first night using the Derma oil on my scalp. OMG!!!! What a difference it made. Withing 2 nights, i woke up in the morning and i literally had one pc of hair on my shirt where before it was covered and on all over my pillow too. I can't thank you enough for this product!!!! On top of it, my scalp is not itchy and its getting better each and every day. The bumps are less and less. I will also write a testimonial on your web site too but i wanted to personally Thank you!!!! You are a God send!!!! I have a few people already that i told and want to buy it and i will tell everyone i can about your product. Please keep this product going, it's the best thing out there and it's all natural. Thank you once again!!!!! Have a wonderful day!" *Disclaimer
-Niki C.
"Your formula has changed my life... with no exaggeration - I had tried everything. I was using so much steroid cream and destroying my skin. I cannot thank you enough." *Disclaimer
-Sophie P.
"I just want you to know that you are a life saver!!! The scalp oil for SD has worked miracles. I've never felt more free since using it. There is no scalp itch, no scalp dryness/flakes, nothing. Doctors wanted me to use products with tar in it and kept repeatedly telling me that it's chronic and will never go away. But they were wrong...they ARE wrong. Thank you from the bottom of my heart!!! My scalp is now clean and clear after just 2 weeks of using the oil. You have my support for life!!!" *Disclaimer
-J.P.
"I needed to write to tell you what an amazing product you have here. I thank god I stumbled onto your site. I have had SD of the scalp for about a year with a maddening itch and embarrassing flakes. I have been to the dermatologist twice with no results at all. I have applied your product on the itchy parts of the scalp for the first week like you said, and it is truly a miracle how my scalp has cleared. Thank you brother." *Disclaimer
-Darren B.
"Just writing to say what a difference your Seborrhea Dermatitis oil has made for me! I have struggled with this unattractive and sometimes painful issue on the sides of my nose for the past couple years. As fall set in this year it became worse and I was feeling desperate for help. Nothing in the past has worked. In my internet search I came upon your story and product, I was hesitant, but I felt like there was a true level of sincerity' your wife's story, your money back guarantee etc., so I ordered your product and have been so thankful I did. Thank you for creating it and thank you for making it available to others who suffer from this annoying skin problem. I also appreciate that you have kept the product affordable!" *Disclaimer
-Patty F.
"My organic shampoo/conditioner set and 'head oil' arrived last night. I slept with the oil in my scalp and this morning I washed my head w/shampoo and conditioner! OMG: fast results!! I can say that 100 percent of the seborrhea dermatitis plaque thickness is reduced by at least 75 percent. Flaking is almost gone!!! I really think I had an allergic reaction to the chemicals in my other shampoos and conditioners!! THANK YOU SCOTT FOR TAKING THE TIME TO DEVELOP THESE PRODUCTS. They work. This is coming from an RN who sees things from a scientific viewpoint with a healthy dose of skepticism. THESE PRODUCTS WORK!! Please feel free to print this for reviews!! Thank you thank you. Thank you also for your quick responses on my questions and your in depth answers to possible vitamin deficiencies and dietary habits that may have caused this 5 month flare of SD. You are truly a man of intelligence and kindness." *Disclaimer
-Diane B.
"I am so happy with your derm essentials oil. I have had horrible seborrheic dermatitis on my scalp for 20 years. For those 20 years I have been forced to use horrible chemical shampoos that barely work on a daily basis. Your product is the best I have ever found! It works SO much better than anything I've tried. I am 100% flake free after using it and when it does start to come back it is not nearly as bad as it has been for the past 20 years. THANK YOU" *Disclaimer
-Meredith L.
"I have been suffering of SD for the past 30 years and I have tried everything looking for some relief. After being using Apple Cider Vinegar with some positive results, I decided to give a try to Derm-essentials and for my surprise I am seeing a great improvement on my skin with just 2 applications. Thank you for changing my life. God bless you..." *Disclaimer
-A.J.
"Thank you for the wonderful product. For months I've been treating my seborrheic dermatitis with selenium sulfide and the more expensive prescription shampoos with little effect. Your product has made a marked difference in my condition in less than a week. I think that's simply amazing. Thanks again and best wishes!" *Disclaimer
-A.M.
"It's been awhile, and I just wanted to say a quick hello and thank you! The relief you provide me with your scalp oil is a true blessing. I am so happy you have kept the formula the same, and feel truly blessed to have something that works for me. Thank you so much! I will be a customer forever! I don't know what I would do without your oil! Thank you so much!" *Disclaimer
-Lisa D.
"I bought your Derm Essentials for Sebborheic Dermatitis oil and am happy to report that it has worked very well. I have SD in the nasolabial folds only, nowhere else on my face, but it was very stubborn to get rid of. None of the creams and antibiotics recommended by the dermatologist had worked, but your product cleared it up in around a week. I was very impressed; I didn't think it was possible." *Disclaimer
-Steven G.
"I love your product and in the few short days I have had Derm Essentials it has made a DRASTIC difference in my skin on my face. The doctor told me to use dandruff shampoo on my face and he was wrong......as that dried the skin out so much my condition worsened. I went back to using Dove soap and your product and my anxiety over my face is gone. I have seborrheic dermatitis at the base of my nose and between my chin and lips. Thank you, thank you. I will consider your other products as well, as you seem to know what you are talking about!" *Disclaimer
-Linda S.
"I just wanted you to know that I have been using your derma oil for 4 days and couldn't be more thrilled by the results. I have suffered with SD on my scalp since I was a child and am 42 now and this is the first time I have had something that works without pulling my hair out and making bald spots. Thank you, thank you!" *Disclaimer
-Kim G.
"I have been using your derma essentials and I have had the best results from it then anything I have tried. You are very knowledgable and honest about your products and the real answer to curing SD. I appreciate the honesty!!! Thank you!!! I also appreciate the updates and your recommendations!! Thanks again." *Disclaimer
-Sheri E.
"OMG!!! Thank you SO MUCH! As you well know, your product works and is amazing!!! Thank you from the bottom of my heart, I am seeing instant results and feeling much better about my appearance. :-)" *Disclaimer
-Andrea D.
"I have had Seborric dermatitis for 2 years that has spread to cover my entire face and have had no money to go to the dermatologist as it is so expensive. I was so ashamed and embarrassed that I even stopped going out of the house without make up, and the make up just irritated it and made it hurt and peel even worse! I also became very depressed. I finally received disability and have an appointment set with a new dermatologist in town. However, I just happened to run across your product Derm Essentials a few weeks ago. I got it and used it immediately and the next day noticed a small change. I have been using it for three days now and all I can say is wow. It is still redish in color but less than usual and the biggest thing I wanted to thank you for, is that the SCALES AND PEELING ARE GONE AND the texture of my skin is so smooth so now I can try this new mineral make up and not look horrid within an hour due to peeling! I am also taking your advice on diet and have started to look into that as well. I can't wait to see the results after 3 weeks! So excited and I almost cried when I woke up to this! Thank you so much! Praying for your product to reach others!" *Disclaimer
-Heather H.
"Thanks Scott for the info. By the way, Derm Essentials is amazing! I had all but given up hope on any treatment for my Seborrheic Dermatitis until I started using your product. I have been using it now for about 2 weeks now and my scalp is almost completely healed! Keep up the good work." *Disclaimer
-Kevin C.
"Wow, I just want to say this product is amazing. It's really really helped my SD, Over the last 18mths I've had flakes in the eyebrows, and whilst I've only been testing in the left one, leaving the right one to compare.... It's 200% better." *Disclaimer
-Aaron M.
"This is really just a commendation email to say thanks for your products. I did a lot of searching on the Internet for something to help my fiancee with her Seborrheic Dermatitis and Eczema and there were so many gimicks being advertised. I read your blog on your website about the same issues your wife had. Well my fiancee has a science degree in skin and works in the industry and she was always getting topical steroid or cortisone cream which she didn't want to use. She was skeptical when I bought the first bottle and I really wish I had taken before pictures of her head and hands because you should see the difference, nothing short of amazing. No patchy flakes of skin and her hands are pretty much back to normal. So cheers not only am I happy but my fiancee is and the price is cheap for the results. I am really just surprised that you are not better known. I have been spreading the word because so many people suffer from skin conditions and your stuff is the answer." *Disclaimer
-Stuart D.
"Hi Mr. Kramer, my mom bought your head treatment or oil that would help my head for my seborriac dermatitis. I am 10 years and I had a lot of scales on my head and the medicines from the doctors never worked. We got your oil and we used it while I was on Thanksgiving break. So I guess what I'm trying to say is that after Thanksgiving week all of the scales were GONE for the first time, my head feels really good now. So thank you sooooo much and your awesome so thank you!!!" *Disclaimer
-Abbey F.
"I am very pleased with this product. I have been using the oil every night, used the shampoo and conditioner. I must say I am impressed. All I can say is Thank you!!! My scalp has not felt this good in years!!!" *Disclaimer
-Joyce P.
"Derm-Essentials has saved my life. Literally. I swear to you, it's gone. THE SEBORRHEA IS GONE. So HELP ME GOD. I haven't stopped using it, of course, but your product saved me from going out of my mind. The big red sores, to just a little dandruff, to NOTHING. God bless you and your lovely wife." *Disclaimer
-Herb N.
"Just letting you know the Derm Essentials I've bought from you over the last year and a half saved me from much embarrassment and scalp itch. It didn't clear my seborrheic dermatitis completely but for most of the day it stopped the mega-dandruff and itching that was driving me nuts." *Disclaimer
-Robert G.
"Just to thank you for my new bottle of your lovely lotion that helps the eczema on my head. It is the ONLY thing that seems to work. Although the doctor prescribed me some other lotion it doesn't work as well as yours for S. Dermatitis. Yours also helps the hair grow back too, which is wonderful !!! Perhaps you have found a cure for baldness too !!! Thank you again!" *Disclaimer
-Michelle L.
"Just wanted to get back to you about my experience with DERM-essentials SD product: Amazing stuff. Started working well immediately and I haven't had to revert to my prescription medication even once in six weeks." *Disclaimer
-Steve H.
"I just had to email you to let you know how much I love the new version of the Derma Essentials. I had a really bad flare-up two weeks ago and decided to head back to a new Dermatologist. She was very nice but told me she couldn't cure me...I knew that, but was desperate, she then gave me the same prescription the other Dr. gave me 3 years ago when all this started - only this time in gel form. It's an anti- fungal med. I used it for a few days and it helped , but dried me out. I then decided to just buy your oils and forget about the Drs. out there. I am very happy with the results...I know there's no cure , but at least your stuff makes the condition livable. Thanks again." *Disclaimer
-Jan C.
"I just wanted to let you know that after using your oil for a week now, my scalp is about 85% better as far as redness goes and flaky scales. I used to be so embarrassed of my S.D but now that the redness and scaling has gone down dramatically, I feel better about my self. You should be proud that you did what large companies that make shampoos for S.D cant do! I will continue using the shampoo and oil and I expect my S.D to almost disappear." *Disclaimer
-Vincent C.
"I recently purchased your hair products, only used it few times. What a difference!! I found that they are really helping me with SD, I experience much less irritation, itching and scaling of the scalp. THANKS!!!" *Disclaimer
-Anna Z.
"Thank you so much for this information. I tried your product a month ago Derm-essentials and it was a life saver. I was suffering from post-partum (just had a baby 4 months ago) Seborrhea Dermatitis on my head, face, neck front and back, it was really bad, the horrible itching and scaly skin left me so depressed. I had gone to my dermatologist two times, the first time he prescribed topical steroid and shampoo, tried it for a month and nothing was working, I was miserable with the pain and itching, the stuff was making me feel worse, I was so desperate to try anything. The second time I went to see the dermatologist he prescribed an oral steroid and I was not going to take that, that is when I came across your website, got the stuff ordered, it came in two days and tried it, ever since then I have been doing so so so much better, thank you so so so much. I still have some outbreaks but nothing compared to what I had." *Disclaimer
-Jennifer M.
"I ordered the SD oil last week and am sooooo relieved to have some relief!!! My chin and nose area were a MESS!!! Red, oily, scaly, just dreadful! I felt horrible about it and was unsure what to do initially. I had been to a dermatologist for the same condition a year or so ago and while the steroid pills and creams that I was given made it go away.... It was only a band-aid! I was mortified.... Knowing that the dermatologist was NOT the right path for me... I immediately sat down and did Internet research..... Which I must admit.... I Was skeptical to know what was reliable and what was not....BUT!! When I found your website....and kept reading and reading.... I knew I had finally found the right treatment plan for myself! I appreciate your research and information tremendously and am very grateful! Thank you!!" *Disclaimer
-Amy N.
"I am thrilled with Derm-essentials. I searched on the net, saw information about your product and took a chance on ordering it. I've been fighting Seborrheic Dermatitis for many, many years and I will be 80 in June. The very first time I put it on my scalp, the itching stopped. I've used it only twice and it seems to keep the sebum from hardening. Furthermore, when I washed my hair the second time, there were no hardened areas to be removed by other, more unpleasant methods. It can't be cured because it's genetic, so I understand. But there was a time when I nearly had a breakdown over the hardened sebum pulling on my hair and causing 24/7 itching. I want to thank you for developing this oil. I believe it must have some yeast or fungus killing properties as well." *Disclaimer
-Mary B.
"I wanted to send you a big thank you for your product Derm-Essentials. It arrived 3 days ago and I started application to my face yesterday morning and last night....I woke up this morning and the severe dry crusty skin has GONE! This product is truly unbelievable after trying everything my general practitioner had prescribed without success. I was desperate and did not want keep using products filled with dubious chemical ingredients. I began an online search for for a natural remedy. I know that peoples results may vary using Derm and want to let you know that it is pretty miraculous in my case and I am now able to leave the house once again without looking like Freddy Kruger. My skin looks beautiful and smooth with the added bonus that the faint wrinkles I had, are gone....amazing. Thank you, Thank you, Thank you." *Disclaimer
-Christina M.
"Most of my adult life I've had outbreaks of seborrheic dermatitis on my face. Recently, in my 40's - the outbreaks got worse. It was incredibly embarrassing because it was so obvious being all over my nose and eyebrows. Red and peely and just nasty. I've tried everything...soaps, moisturizers, fungicides, cleansers...literally. Two different dermatologists with two different approaches. I had some luck with a product called Plexion, but it didn't last. When I received your product I was having one of the worst flare ups I have ever had. My whole t-zone on my face was red, inflamed, peeling, itchy and burning. All the creams and cleansers were not helping. I started putting your oil on my face the day I recieved it. Within a few hours - literally - I noticed a difference. Within 2 days my flare up was almost gone. I can't tell you how grateful I am for your product. It has changed my life. I just want to tell people who suffer from this and are looking for a solution to stop looking. Order this product. I promise you it works. It really does. Thank you for making me want to look at myself in the mirror again!" *Disclaimer
-Kevin M.
"The product that I purchased from you is very effective at keeping the scalp issues under control. I am a satisfied customer and will heed your recommendations in the future." *Disclaimer
-Wayne H.
"Thank you, for this amazing product! I have lived with embarrassing seborrheic dermatitis on my scalp all of my life (getting a haircut is a nightmare). I can not believe how well it works. So very glad I clicked on your site and took a chance please don't ever stop making it." *Disclaimer
-Sue C.
"Several months ago I purchased Derm Essentials and your product gave me my life back. I had suffered with SD in my head for over two years. I had made numerous visits to the doctor but he never diagnosed it as SD, but rather treated me with dangerous shots which never helped one bit. Finally, after purchasing a wig, I set out to do my own research on the internet. It didn't take me long to self-diagnose my condition as Seborrheic Dermatitis. Once I finally knew what was wrong I started searching for natural cures, and, by the grace of God, found you. I had purchased two bottles but my scalp cleared up in about a week. Amazing! It has never come back on my head, but I have had minor breakouts on my face--i.e. chin and eyelids. Each time it flares up I put on your medication and it calms back down. From the bottom of my heart, thank you for this wonderful product. I have told my hair dresser about your medicine and given her your website as she commented that she has other clients who are suffering from this disfiguring malady. God bless!" *Disclaimer
-Kathleen L.
"Hi, I just wanted to tell you that I am so happy with your product, I have tried several things to help this condition and nothing has ever phased it. My kids have this condition so bad that I cant hardly take them out anywhere without a hat on cause people stare like we are dirty, but lord knows that aint true. I have even taken them to a dermatologist and she gave me a prescription for something that did nothing, I bought more stuff over the counter at Walmart and this also did nothing. I just wanted to thank you again for you fine product, it has a made a world of difference for my kids. Thanks again." *Disclaimer
-Patricia N.
"Several months ago (after years of using steroid based creams and shampoos) I ordered your Derm Essentials. I use it every day. The results have been so fantastic. Skin discoloration has lessened, my hair is coming back (which I never thought would happen) and I have a glow to my scalp and face that I haven't seen in years. Two weeks after I started using the product, a friend said - "You look good - different. Did you get a haircut?" I smiled and told him "I'm trying something new." I'm very glad I found my way to your company and your products. Thank you for creating Derm Essentials." *Disclaimer
-Steve H.
"I just wanted to follow up with you. I received your product within 3 days of ordering, so that was amazing...and the product itself...I COULDN'T BE HAPPIER! It's practically been a 500% improvement. I was dealing with dry flaking skin every day of my life!...I kept having to get aftershaves, lotions, and anything else I could think of to fix my skin (or try to anyways) with your sebhorric dermatitis treatment (which I've only been using THREE DAYS). It's almost completely gone and I can go to parties and downtown and dress up and not be embarrassed. It fixed it on my face and the shampoo conditioner has fixed it on my scalp. You have a lifelong customer in me. And if anyone ever doubts if your product works, well have them contact me. THANK YOU! YOU HAVE CHANGED MY LIFE!" *Disclaimer
-Ryan A.
"A note to tell you how much I appreciate your Derm-Essentials. For decades I just had extra-sensitive scalp and shampooed up to 2-3 times a day seeking elusive relief. Your site helped me tune into the true situation and your herbal formula is slowly but surely effecting a cure at last. Thank you." *Disclaimer
-Stuart W.
"With great hope I ordered two bottles of your Derm-Essential oil last year. I have found it to be extremely effective in my treament of dermatitis. It also goes a long way!! I don't think I'll need any till next year. Just wanted to say thanks and how much your product means to me - I can't imagine not using it on these winter nights." *Disclaimer
-Matt P.
"First off, your product is truly wonderful! Before using, my mom had tried a variety of stuff - all of which wasn't working at all, or even aggravating the situation even more. She has now been using your product for several weeks - initially doing the 7 day treatment, and now basically as needed. Yes - she still has some flaking - but not even comparable to what was going on before - she can actually wear black again! In addition, her hair has become so much healthier and fuller - having always had the most gorgeous natural curls - this situation which began in August was an absolute nightmare - particularly at the crown where she suffered very noticeable hair thinning. In addition after EVERY washing she experienced tightness of the scalp immediately. Now that has completely gone away. She is right now using the product every 2 days or so - or when needed - we are hoping that by some sort of divine intervention what came to be from no where will somehow cease. I just reordered your product today and I would recommend it to anyone who has suffered thru or has been suffering with this condition which not only affects the person, but those who love them." *Disclaimer
-D.L.
"I finished using the derm-essentials oil and I've had much success using the product. I have no complaint, the product works much better than I could have ever imagined. As requested I used it every night 7 days straight. The primary areas I used it on was small patches on my face and on my arms. This product helped clear up my arms tremendously. Within one week it cleared up one arm 90% and the other about 70%....and my arms had several very inflamed pores that were visually noticeable. Its great finding a product that can practically be used every day without causing skin irritation and still remain effective. Once again I thank you for not only creating an excellent product that works better than anything I've come across and keeping it at an affordable price. I've discovered derm-essentials with a proper diet does an excellent job of keeping SD under control." *Disclaimer
-Steven C.
"I ordered your product last week for the first time and I must say it is working exceptionally well for my seborrheic dermatitis. I have lived with this condition for 38yrs and this has been the first topical product that has had any substantial results. I've applied it twice and it feels like I have a new scalp." *Disclaimer
-Stephanie B.
"I just wanted to thank you. I received the oil on Thursday and started using it immediately. My scalp was SO MUCH BETTER by Sunday, didn't even hurt or have that 'pulling on the hair' feeling. Today is Monday and my scalp is already healing. The scabs are falling and no more pain. Thank you SO much for developing this, I don't know how I would have managed without it, I feel so much better in myself too. Thank you!" *Disclaimer
-M.L.
"I am an african american female and I have been using Derm Essentials for about 2 months now. I wanted to write in and let you know that I have had wonderful results from this product. For too long now I have used a topical steroid on my scalp to control my seborrheic dermatitis. Now, thanks to your product I have not used this steroid in over 2 months. This is truly amazing to me due to the fact that in the past, if I missed using an application of the steroid, my seborrheic dermatitis would flare up like crazy. I apply your product about once a week on my scalp and lightly add it to my scalp throughout the week in the areas that may be a little bit itchy. I cannot say that it has gotten rid of all of my dandruff, but my scalp is much, much, healthier that it has ever been and the little bit of dandruff that I do get towards the end of the week, is nothing compared to what I used to get. My scalp is no longer crusty and sore. I would like to thank you for creating this product and let you know that you are truly helping people that have suffered so long with the agony of seborrheic dermatitis. Please don't ever stop making this prodcut! Thank you so much." *Disclaimer
-Kimberly R.
"Well, I have to say after giving up all hope I am pleased to inform you that the results have been very impressive. Prior to using the oils, My cheeks, shoulders, chest and scalp would be on fire and I would be scratching until I bled. My SD would arrive, almost immediately, without warning and then disappear the same. The only manageable way I could reduce the SD or pain was to go on a UV sun bed, but long term I was reluctant to do this. After using the oils for the first 2 days the redness on my cheeks had almost gone completely. I think the redness has gone as much as it can do and what remains is probably permanent damage or blood vessel scarring from the years of suffering from SD. For the record, I hated having the red cheeks and was delighted they had significantly improved. I was really impressed and it just got better every day. Apart from today (day 7) I started to get an itchy scalp and shoulders for the first time. However, whereas previously I would be scratching until I bled or in my sleep, I am hoping it is more manageable than previously. Everybody has told me my skin looks a lot better!" *Disclaimer
-Joseph W.
"You really did a great job developing this oil. My scalp and hair haven't felt this healthy in years. Those crusty spots on my head that I thought had turned to cement are gone. My scalp hasn't itched or become inflamed in at least a week. I will certainly be buying more oil. I can't wait to get my hair cut next week to see if my hairdresser comments on my scalp looking better. I wish you much success. I am also grateful for all your research and for developing the oil." *Disclaimer
-Sheri D.
"Just wanted to let you know that my mom has been using your product since Friday night -- The results thus far have been AMAZING!!! This is the first time in months that my mom has not had a tight scalp -- and the first time in months where her scalp looks healthy!! Even the condition of her hair is getting healthier!!! The area on her scalp that was a bit pink after the first use is now gone -- and oddly enough that was the area that was most affected by the dermatitis -- that area is now clear!! We have been trying COUNTLESS products since August -- and everything seemed to either not work, or work for a day -- thus far your product is truly a blessing! THANK YOU THANK YOU THANK YOU!!!" *Disclaimer
-D.L.
"I think the oil is great! I am an African-American female and therefore I cannot wash my hair every day without depleting my scalp and hair from it's natural oils. Therefore, I used the Seborrheic Dermatitis oil as a maintenance tool. I applied it to my entire scalp on day 1, by day 2 or 3 the smell was gone and there aren't any signs of flakes (hooray). On day 4 or 5 I would see a couple small flakes, and therefore would apply the oil again and so forth and so on. Therefore, I use the oil about twice a week and I like the product because it doesn't leave my hair feeling heavy and greasy because I use the Seborrheic Dermatitis oil in liquid form and apply very small droplets directly to my scalp only. With other products or oils, my hair would feel heavy and full of grease (yuck), and I would have to apply the products every day and I would still wake up with flakes. I will continue to use this Seborrheic Dermatitis oil, I just hope that maybe with continued use, I can decrease the treatment to once a week and be flake free, and then I would be very happy!" *Disclaimer
-A.W.
"Just to let you know that the package arrived safely and in tact over the weekend. I have only used the product for 3 days and can already see and feel the difference. My scalp doesn't look as pink, flakes are almost gone and best of all my very dry hair feels soft and manageable. I'm so pleased I found you without having to resort to steroid treatment." *Disclaimer
-Margot B.
"I just placed another order, and I wanted to thank you from the bottom of my heart for the oil. I still have the seborrhea I probably always will to a certain extent but it is nothing and I repeat nothing like it was before! I am able to control it better "Whoopee" Plus the hair loss has slowed down. I will be a devoted customer for life I am sure ;-) I wish you continued success!" *Disclaimer
-Patricia H.
"I really appreciate your thoughtfulness to your customers. Thanks to this product, my scalp is almost normal, and my hair is growing back, and I've discarded the steroid lotion that I was using. I'm also using the oil on a reoccurring body rash that itches, and this oil is the only product that helps! So I sincerely appreciate your kindness!" *Disclaimer
-Carol J.
"I have been meaning to send you some feedback on Derm-Essentials for a while, but didn't get a chance before. It wouldn't be an exaggeration to say that this little bottle saved my life and sanity. I won't repeat my scalp ordeal again as I wrote some of my symptoms in an email before, but suffice it to say that I was desperate and in panic over scabs coming off my scalp and new ones forming in their place and constant itch which would get much worse towards the evening and early morning and in the shower till my hair dried. Well, I saw almost 70% improvement only after two applications and by the third one I just didn't feel the itch anymore. I kept up with the first seven applications and began to taper off and now apply twice a week or more if I feel like applying it (and now I use it more because of the scent and the relaxed feeling it brings than for the itch). I received the product at a time that an appointment with a bigshot derm I had made long before and was waiting for was approaching in 3 days. I did go to see the derm because I had waited to see him for so long, but was aware that he wouldn't be able to se anything on my scalp. As I expected, he said he could see some signs of inflammation which was healing very well so I should keep doing what I was doing and should go back to see him only if it flairs up. You may want to know that this Thanksgiving, you were added to the list of people to whom I owed gratitude as the scalp issue was taking over my life and had really affected my productivity. So thank you very much once again for a great product." *Disclaimer
-H.S.
"I wanted to email you to let you know your product is wonderful! This has been such a blessing for me. I faithfully used the derm essentials for about a week and a half each night. My SD has cleared up completely. My hair is starting to come back in more fully. My beautician cut my hair yesterday and said my hair and scalp had improved at least 70% from the last time she cut it, which was about 6 weeks ago. She told me to keep doing what I was doing because it was defintely working. I sure feel better about how I look now. I was so depressed before I found your product. May God richly bless you and your family for discovering something natural that works. I had been on steriod shampoo's and steriod foam since March of last year, with nothing seemingly to help. Praise the Lord Derm Essentials worked. Thank you, Thank you, Thank you! I have shared about your product with many people. There are others that are interested. I wish you the best, and again thank you from the bottom of my heart. I will be reordering in the future." *Disclaimer
-Dawana L.
"I have been meaning to let you know how happy I have been with your product. It really has made an enormous difference to my scalp and I now have barely any problems at all - practically cured! I will be a life long customer. Many thanks and kind regards" *Disclaimer
-Irene T.
"I've used the product 3 times and it's a charm. No flakes, and even the bigger bumps are disappearing. I bought some dark coloured clothing yesterday for the first time in years! Thank you." *Disclaimer
-Pat D.
"I have used your derm essentials last week. After two nightly applications, I was impressed big time. The large clumps of dried skin all over my head were gone. Not only that, my hair was once again soft and normal compared to 8 years of hair like dried straw. In addition, the itching no longer existed. My compliments to your efforts to create a super product." *Disclaimer
-Elwyn B.
"I just wanted to write and tell you how much I love your product, Derm Essentials for Seborrheic Dermatitis. I used it for about 5 days and it had immediate and seemingly lasting results. I cannot tell you how happy I am with using it. It doesn't take a lot to be effective. I have had problem for many years with an area on each of my nasal folds and in recent months it somehow spread itself up into my eyebrow and forehead region. This product has totally cleared it up and my skin is once more the clear and healthy skin I have had most of my life. I am 69 yrs. old and feel like this product will be able to keep this ugly and aggravating skin dermatitis at bay. I cannot thank you enough for producing this wonderful product and I will continue to use if for years to come. I would recommend this product to anyone who has been suffering with this type skin problem." *Disclaimer
-Elaine M.
"I have been using the oil for last three weeks. It's truly amazing. I used to find it so difficult to go out with this skin problem on the scalp, forehead and face. But now I feel so confident to go out and meet friends. May God Bless you as you have been a blessing to others." *Disclaimer
-Teena P.
"I have been fighting a battle for many years to just get my Seborrhea under control. I have used over counter shampoo and prescription shampoo. The prescription shampoos work but are not as effective as the Derm-Essentials. It has been about three weeks now since I applied it and have used the Organic Excellence Shampoo each day. I had my hair cut and the cosmetologist said my scalp has improved and she has never seen one improve that rapidly and ask me what I had done and what I used. Of course I gave her the 20 minute educational talk on your products. When I say I have fought this for a good many years it started out when I was in high school and I am now 74 years of age. So you see I have had the opportunity to try many different products. Keep up the good work." *Disclaimer
-Don J.
"Firstly I would like to say THANK YOU for having such a great product. I was suffering from Seborrheic dermatitis which I didn't knew until I saw information on your website. I was always thinking that I have a really bad dandruff and nothing else. I also visited many doctors and took all the medicines that was recommeded by them but I wasn't getting cure and this is on going from almost 6 years now. 3 weeks ago I started following your recommeded diet and also used your recommeded oil, I have to say this is first time in 6 years I saw my hair fall getting slow and I can finally see reduction in my dandruff level and redness and it almost gone by now. Once again THANK YOU and I will shout loud to every one that I can see suffering from Seborrheic dermatitis to use your product and follow your guide." *Disclaimer
-G.S.
"Just wanted to thank you for Derm-Essentials. I have had facial SD on my eyebrows for over a year. I tried the steroid & non-steroid creams from my dermatologist with no luck, along with every facial product I could find. I felt like I would have "dandruff of the eyes" forever. I've been using the D-E for about 2 weeks, and have very little flaking anymore. Thanks SO much!!!!" *Disclaimer
-Laurie R.
"I just wanted to email you to tell you how impressed I was with Derm Essentials. To give you some background information, I am 33 years of age, I suddenly started losing a lot of my hair (50% all up as confirmed by my scalp biopsy). All my blood tests came back normal and so unfortunately we have not been able to get to the bottom of what caused my hair loss other than stress. About a month into losing my hair, my scalp became really itchy. I couldn't understand what was causing it as there were no flakes as such as I was forced to wash my hair every day due to how thin my hair came so my scalp was very clean as I was using essential oils every couple of days and using tea tree oil shampoo on a daily basis. I knew the essential oils were helping to relieve the itch, but they didn't take the itch away entirely. Knowing that I was on the right path with essential oils, I landed up finding your product a month ago (7 weeks after the itch started). I landed up applying it 3 times on my scalp and slept with it in my hair each time. I am absolutely amazed at the result, the itch has almost all but gone, I am now able to wash my hair every 2 days instead of every day due to the itch. I just wanted to praise you for such a fantastic product, I hope it will be around for many years to come and at a competitive price as I can imagine there must be so many woman out there who just don't want to spend lots on their hair having just spent thousands on trying to get to the bottom of the problem myself I can well understand why. My hair loss has slowed down remarkably over the last month, but my concern was that every time my head got itchy, I would have to scratch it which resulted in more hair loss, now that I have the itch under control with derm essentials this is no longer a problem anymore. I am not sure if I will ever get my hair back to what it was 4 months ago, but I feel a lot more positive knowing that sebborheic dermatitis is almost well and truly behind me." *Disclaimer
-Vanessa L.
"I want to thank you so much for your product. I was skeptical at first having tried many products that haven't worked. I've used the oil for about one week and have seen a marked improvement in my skin. I also want to thank you for your prompt service." *Disclaimer
-Ellen W.
"What a fabulous product you have there! My scalp is so much better after 1 week of applying it nightly. My SD is about 75-85 percent better! Thanks you much for developing it! I will always use it - don't ever stop making it!" *Disclaimer
-Robin H.
"This is one amazing product! I have been dealing with Seborrheic dermatitis for over 20yrs and this is the first product that has actually worked. Thanks." *Disclaimer
-Steve H.
"I ordered your Derm-essentials oil for my severe dandruff and hair loss I have got to tell you the stuff has been working wonders on my scalp my hair is falling out less than it was and I even notice little short baby hairs growing in the areas of my scalp where there was no hair! I cant believe the difference in my scalp! My hair is so much softer and its not as dry and brittle as before! As far as the severe dandruff that I had I dont hardly see any dandruff and there are NO sores on my scalp anymore! What is suprising me the most though is the fact that I have new hair growth! Thats amazing to me!" *Disclaimer
-Sabrina H.
"I am just writing a quick email to rave about your fast service. I ordered the product on Friday and it was shipped the same day. I received it on Tuesday. Awesome service. I have just begun using the product and early results are promising. Thanks again for great service of your product." *Disclaimer
-David L.