Garden of Life - Dr. Formulated Whole Hemp CBD+ Plus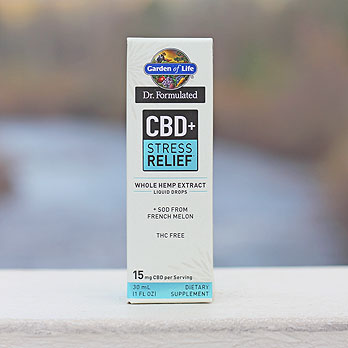 Item:

Dr. Formulated 15mg CBD+ Stress Relief

Info:

1 fl oz (30 mL) - 450mg CBD total

Price:

$41.00

$30.00

(Save 27%)

Save:

2 or more:

$28.70/ea (Save 30%)
Garden of Life's new Dr. Formulated 15mg CBD+ Stress Relief is the healthy & natural way to help reduce your stress levels. This unique broad spectrum whole hemp extract is formulated with 15mg of Cannabidiol (CBD) per serving, plus powerful superoxide dismutase (SOD) from French Melon - which has been clinically shown to help reduce stress. It includes Garden of Life's specially sourced Pure Essential Oils rich in terpenes, to create a more potent entourage effect.
Ingredients: Broad Spectrum Whole Hemp Extract (15mg CBD per serving) in Organic MCT Oil (from coconut), Organic Extramel® Superoxide Dismutase (SOD) French Melon Fruit Concentrate, Organic Entourage Effect Essential Oil Blend (Orange, Lavandin, Chamomile, Clove, Frankincense), Organic Mint Spice Flavor, Organic Stevia Extract
Overview:
Garden of Life's Whole Hemp CBD extracts contain a full spectrum of terpenes, cannabinoids, flavonoids, and fatty acids found in the hemp plant...all working together to create health promoting synergies known as the entourage effect. What's missing? THC, the unwanted psychoactive commonly found in hemp. That's why Garden of Life calls their Whole Hemp Extract "Broad Spectrum" - it contains all of the healthy benefits of hemp without the unwanted risk of THC.
Garden of Life is a brand name you know and trust. Their organically grown hemp is 100% produced in the USA, and is certified by Labdoor to be THC-free. They've established their farm co-op in eastern Oregon for one simple reason...it's one of the most fertile regions for hemp cultivation in the world. Their farming collective has deep roots in organic farming, and will very soon be Certified Organic.
They use a clean, Supercritical CO2 extraction method to ensure their products are free from solvent residues, toxins and chlorophyll. Their whole hemp extract is tested to the highest standards at every step of the supply chain. Finished goods are also tested for potency, pesticides, residual solvents, heavy metals, microbials, and glyphosate to ensure product efficacy & purity.
Entourage Effect Blend - with terpenes, cannabinoids, & flavonoids
THC Free - third-party certified by Labdoor for Purity & Potency
Dr. Formulated by David Perlmutter, M.D. (board-certified neurologist)
Sustainably grown in the USA using organic farming practices
Supercritical CO2 clean extraction (no solvents)
Non-GMO Certified, Vegan & Gluten Free
Suggested Use: Adults take 1 dropperful (1mL) daily. Not intended for children.
Servings Per Container: 30
FAQs:
Why is Garden of Life's Dr. Formulated CBD better than other CBD products?
Garden of Life is a well-known trusted brand using modern, clean, and state of the art manufacturing processes & facilities. Their CBD products have been expertly formulated by a medical doctor, and are 3rd party certified for purity & potency by Labdoor. Their 100% USA based supply chain utilizes organic & traceable farming practices, with USDA Certified Organic status coming soon.
What is CBD?
Cannabidiol, abbreviated "CBD", is one of approximately 115 phytocannabinoids naturally occurring in hemp (cannabis) plants.
What are cannabinoids?
Cannabinoids are a diverse group of chemical compounds naturally found in the human body (endo-cannabinoids) and also in cannabis plants (phyto-cannabinoids).
How do cannabinoids work?
Cannabinoids interact with receptors of the Endocannabinoid System (ECS) in the body to restore a normal state of healthy balance.
Is CBD psychoactive?
No, CBD present in all strains of hemp is not a psychoactive compound. CBD will not get you high (unless it contains THC). A good quality tested CBD product that is THC-free should not cause you to fail a drug test.
What is THC?
Delta-9 THC is largely responsible for the psychoactive effects of cannabis. THC can build up in the body and can result in failed drug tests over time.
Does Dr. Formulated CBD contain THC?
To avoid any concerns about psychoactive effects or failed drug tests, our CBD is labeled as THCFree and is supported by third party published testing for every batch via QR code on the carton.
Is CBD legal?
On 20th December 2018 the Farm Bill declared that all "hemp" extracts (CBD) are legal agricultural products provided that they contain <0.3% THC.
What is industrial hemp?
Industrial hemp is the hemp plant which has been used historically to produce hemp seed oil, rope, paper, household items, clothing and now CBD extract. By law, industrial hemp strains must contain less than 0.3% THC.
What are the components of whole (full spectrum) hemp?
The hemp plant consists of over 480 natural phyto-compounds which includes cannabinoids, terpenes, flavonoids and fatty acids.
What are terpenes?
Terpenes are the primary constituents of the essential oils providing the scent and flavor of the plant. They may also have other functions such as protection of the plant.
What is the Entourage Effect?
The Entourage Effect results when the many components within the hemp plant interact with the body to produce a stronger influence than any one of those components alone - it's a synergistic effect.
Where is Dr. Formulated CBD hemp grown?
Garden of Life's hemp is 100% grown and produced in the USA. They established their farm co-op in eastern Oregon for one simple reason - this is one of the most fertile biomes for hemp cultivation in the world. It is grown outside (not in hot houses) according to Good Agricultural Practices in naturally rich soil, with natural sunlight and pure rain water.
Is Dr. Formulated hemp organic?
Garden of Life's farmers continually follow Organic Farming Practices according to NOP (National Organic Program). They do not use any herbicides, pesticides or fungicides. Their products are currently >80% organic content, soon to be USDA Certified Organic in 2020.
Is Dr. Formulated hemp Non-GMO?
Yes, Garden of Life's hemp is produced from certified seed stock which has been produced by natural plant breeding methods to be high in CBD and low in THC (<0.3%). It is also third-party tested by IGEN to validate the absence of GMO's.
What method is used to concentrate CBD in the Dr. Formulated CBD products?
Garden of Life only uses Supercritical CO2 extraction to concentrate CBD. While it is common practice to use solvents or alcohol in conjunction with other methods, there are absolutely no solvents or alcohol used at any stage for our CBD products. Our CBD is tested to be solvent free. They use the safest & cleanest method of extraction possible which is much more expensive than using solvents. CO2 is recyclable and it does not create any toxic waste in the local environment.
Is Dr. Formulated CBD an isolate?
No, Dr. Formulated CBD is not an isolate, it is a concentrated CBD, delivering a guaranteed dosage of CBD per serving, along with other beneficial cannabinoids found in hemp, plus terpenes to produce an entourage effect. Third-party testing results are available through a QR code on the packaging.
What cannabinoids in addition to CBD should you look for on Certificate of Analysis?
Although there are over 100 cannabinoids naturally present hemp, no CBD formula on the market contains more than a handful. According to experts Dr. David Perlmutter and Dr. Jeffrey Bland, CBD is the principal cannabinoid that is needed in a significant amount for clinical efficacy. This is why Garden of Life pioneered methods to concentrate CBD using a standardized clean method. GoL's Broad spectrum CBD has the highest concentration of CBD without THC, along with the other cannabinoids as shown in the Certificate of Analysis which is available to consumers through QR code on the carton.
What terpenes should you look for on a Certificate of Analysis?
Dr. Bland states that the research shows that out of 44 terpenes found in hemp there are 6 major players to look for: beta-caryophyllene, alpha & beta-pinene, beta-myrcene, limonene, and alpha-humulene. These six major terpenes found in hemp oil each have a strong physiological effects that relate to the well known clinical applications for CBD. The other 38 terpenes that have been identified in hemp oil show considerable variation from sample to sample and therefore do not appear to be the major contributors to reproducible influence on the entourage effect in hemp.
Why does Garden of Life add organic essential oils to your CBD formulas?
All Garden of Life CBD products include unique blends of organic 100% pure essential oils, working in combination with CBD and other components of the whole hemp extract, to create a more potent entourage effect.
What are the health benefits of CBD?
Legally we are not allowed to make any health claims about CBD however you can research CBD studies easily online. Garden of Life's CBD+ formulas contain added clinically studied ingredients to support targeted usages such as for sleep, stress relief, and healthy inflammatory response.